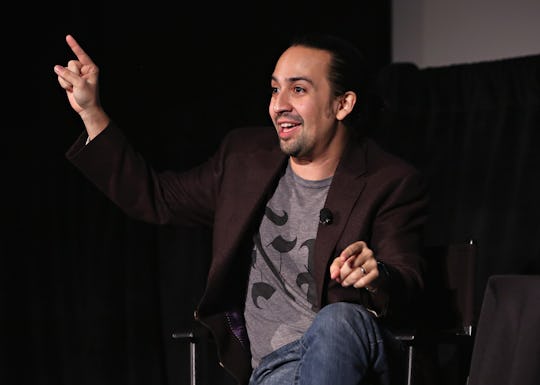 Cindy Ord/Getty Images Entertainment/Getty Images
Who Will Be In The 'Mary Poppins' Sequel? Lin-Manuel Miranda Has A Starring Role
After the success of the new Jungle Book movie, Disney is going all in with reboots and spin-offs of some of their most classic films — and at this point, no one should be complaining, especially since favorites like Dumbo, 101 Dalmations, A Wrinkle In Time, and Mary Poppins are in the mix, along with some very big names attached. Yes, you read that right. Disney has announced that they're working on a Mary Poppins sequel and Lin-Manuel Miranda will be starring in it, according to a report this week by Variety.
Although exactly which role Miranda will be playing hasn't yet been confirmed, Broadway.com has reported that the performer will be taking on the role of "Jack", a lamplighter. Of course, he would have made and excellent Bert too, Dick Van Dyke's original role and a cockney Englishman who leads the Banks children on fantastic adventures across grimy London rooftops and into classical portraits, all while dancing and crooning his famous songs.
As a kid born in the early eighties, watching Mary Poppins with my own mother (who adored the film), I'll be honest — Bert was always a little frightening to me. If "Chim Chim Cheree" isn't scary to a 6-year old, I don't know what is. Much like Kaa in The Jungle Book, Van Dyke's performance as Bert haunts me to this day (snakes and chimney sweeps freak me out, what can I say?). Thankfully, it seems with Miranda taking on the role of Jack instead, my fears could be absolved.
Of course, they could cast Miranda as Mr. Banks, the father of the brood who wants to fly a kite, but what fun would that be? Bert had all the fun and Miranda's dancing and vocal skills have been confirmed all around as comparable to Van Dyke's. According to Variety, Emily Blunt is slated to star in the sequel, one must assume as Poppins herself.
If Disney is really going to milk this live-action thing with their vault of classics, what better film to do it with? When Mary and Bert sing "Supercalifragilisticexpialidocious" to the children, then proceed to enter a framed picture and sing with cartoons, it's impressive enough (do I have to further explain why I was scared of Mary Poppins?). It was live-action before live-action was a thing film viewers complained about. Now, with an updated cast and a whole new trove of special effects, it'll be even grander.
In addition to announcing Mary Poppins and a Jon Favreau-directed Jungle Book sequel, Disney also reportedly announced a "Tinker Bell project" with Reese Witherspoon, Dumbo directed by Tim Burton, Cruella as a 101 Dalmations spin-off with Emma Stone, and Maleficent 2, complete with Angelina Jolie in the title role once again. There's also a promised Little Mermaid in the works, which makes me want to cue up "Poor Unfortunate Souls" on YouTube this very minute. (Somehow, Ursula was never as scary as a random chimney sweep.)
The reboots are a chance for Disney to not only please tiny people, their parents, and their grandparents, but to cast and redirect the narratives of the stories in a more contemporary and diverse way. (And maybe give 30-something-me a whole new host of nightmares). Let's get to it, Disney.