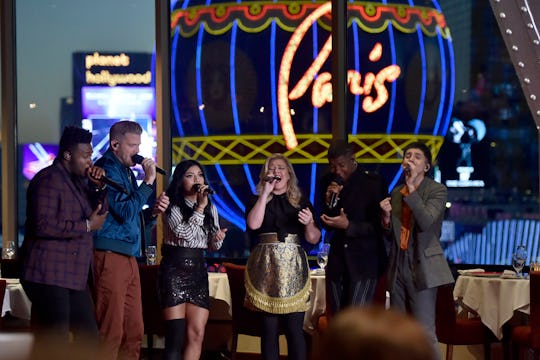 David Becker/NBC
The 'Pentatonix: Not So Silent Night' Special Features Some Big Musical Guests
You can't usher in another Christmas season without listening to Pentatonix until your downstairs neighbor bangs on their ceiling or your toddler of all people begs you to turn it off in the car. That's probably why they're getting their own Christmas special on NBC, Pentatonix: A Not So Silent Night, but there will be some other artists belting out Christmas songs. So, who is performing on the Pentatonix: Not So Silent Night special? Get ready for all of your favorite holiday carols, because it's the perfect special to keep your holiday spirits up.
Along with the famed a cappella group, you'll see Backstreet Boys and Kelly Clarkson. Pentatonix will also perform with country singer Maren Morris and belt out a number of songs on their own as a group. It might not be as full a roster as some fans expect, but it gives Pentatonix the chance to perform without the help of other big names in music.
But this isn't the first time they've collaborated with Clarkson. She was a big part of their first NBC Christmas special back in 2016 and before that, they went on tour with her in 2015. In fact, Pentatonix singer Scott Hoying told Cincinnati Magazine at the time that, growing up, he'd been a big fan of hers.
"She's one of my very favorite pop stars ever," he told the magazine. "To be on tour with her is surreal. It just doesn't feel real. For her to be tweeting me back casually, it's so weird... Her voice, hearing it in person, just like casually, she's just rehearsing. I just couldn't believe it. I was having a moment."
By now, I'm sure Pentatonix are a little less likely to get starstruck since they've gained their own growing fanbase. But it's a nice reunion in the name of Christmas.
The Pentatonix: Not So Silent Night special isn't a live TV event, so it's less about singing onstage in front of a cheering crowd and more about the group flitting from scene to scene as they meet up with the different performers. And there won't just be musical guests on the special. Illusionists Penn & Teller will also make an appearance on the special since it was filmed all over Las Vegas. According to Las Vegas Review Journal, the Pentatonix Christmas special took them to different popular spots, including Fly Linq zip line, and they broke out into song in each one, both alone as a group and with their guest singers.
It makes sense that Clarkson and Morris are two of the big guests on Pentatonix: Not So Silent Night since both singers also appear on Pentatonix's 2018 holiday album, Christmas is Here! Pentatonix is currently on tour promoting the album and they also already appeared at the Christmas in Rockefeller Center tree lighting ceremony. Christmas music really isn't the same without Pentatonix attached in some capacity.
Even if you aren't wild about the Backstreet Boys (come on, now), you're probably going to go gaga over their 10-part harmony with Pentatonix on "Winter Wonderland." Pentatonix will also sing "My Grown Up Christmas List" with Clarkson as well as classics like "When You Believe" and "Hallelujah" with Morris. Pentatonix will perform on their own, of course with popular Christmas songs like "Where Are You Christmas" and "Jingle Bells," among others.
Over the years Pentatonix have managed to remain relevant and become *the* voice of Christmas. It was only fitting that they be given their own special again this year.
After experiencing a traumatic c-section, this mother sought out a doula to support her through her second child's delivery. Watch as that doula helps this mom reclaim the birth she felt robbed of with her first child, in Episode Three of Romper's Doula Diaries, Season Two, below. Visit Bustle Digital Group's YouTube page for more episodes, launching Mondays in December.