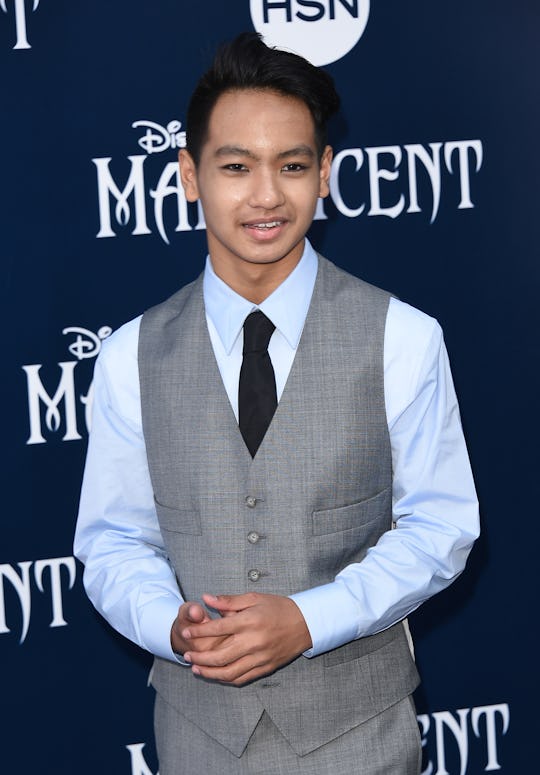 Jason Merritt/Getty Images Entertainment/Getty Images
Who Will Get Custody Of Maddox Jolie-Pitt? It's Unclear At This Time
Following the news of Tuesday's announcement that Angelina Jolie filed for divorce from Brad Pitt citing irreconcilable differences, one question that's on the minds of fans everywhere is who will get custody of Maddox Jolie-Pitt? According to TMZ, Jolie is asking for sole physical custody of all six children they share: Vivienne, 7, Knox, 7, Shiloh, 9, Zahara, 10, Pax, 11 and Maddox, 15. These same reports noted that Jolie is requesting that Pitt receive only visitation rights. Right now, it's unclear where the couple's oldest son, Maddox will end up, as Jolie and Pitt both adopted him, making his custody arrangements a bit more complicated.
One of the main reasons behind the "irreconcilable differences" is that Jolie did not approve of some of Pitt's parenting methods, according to TMZ. Additionally, these reports claim that Pitt has allegedly abused alcohol and marijuana, which Jolie claimed interfered with his ability to co-parent.
Romper reached out to publicists and attorneys for both Jolie and Pitt, but has yet to hear back. In a statement to People, Pitt spoke of the divorce with deep sadness:
I am very saddened by this, but what matters most now is the well being of our kids. I kindly ask the press to give them the space they deserve during this challenging time.
Jolie's dedication to her children is one quality that has made the acclaimed actress and director so famous. Jolie adopted Maddox in 2001, when he was a 7-month-old Cambodian orphan, according to People. At the time, Jolie had recently split from ex-husband Billy-Bob Thornton, whose blood she famously wore in a pendant around her neck. A trip to Cambodia, as a Goodwill Ambassador for the United Nations, changed Jolie's life, and she made the decision to adopt, even if it meant parenting all on her own. "For me, becoming a parent changed everything," Jolie told People in the aforementioned article. "My priorities straightened out. My life is all different," she said.
Fast-forward a decade, and 15-year-old Maddox is helping Jolie research 1970s Cambodia for a Netflix film adaptation of Loung Ung's memoir that details the genocide inflicted by the Khmer Rouge on the Cambodian people, or so noted the Associated Press. The film, First They Killed My Father, is from the perspective of a young boy, and you can't help but conclude that Maddox and his cultural ancestry are the inspiration driving this project. "Maddox will be on set every day after school and involved behind the scenes," Jolie told The New Zealand Herald in 2015. "As Maddox and I prepare the film we will be side by side learning about his country." The film is slated to be released by Netflix later this year.
Jolie and Pitt have set up two charitable organizations in Maddox's name: the Maddox Jolie-Pitt Foundation and the Maddox Chivan Children's Center, which Maddox will take over when he's older, Jolie told The New Zealand Herald in the aforementioned article.
As for Jolie's iron-clad bond to Maddox, it's unquestionable. She was quoted in The Daily Mail as saying she was closer to Maddox than any of her other children. "You'd think you'd be more similar to the children you have a genetic link with, but I'm not ... I'm very similar to Maddox."
Maddox also worked on the set of his film, By The Sea, as a production assistant for the film Jolie wrote, acted in, and directed. Pitt, who also starred in the film, told Du Jour that working on-set with Maddox was enjoyable. "It's fun to see your boy grow up and take on responsibility and [it's] very nice," Pitt said of the experience.
According to the Du Jour article, Pitt also said that being a dad filled with chaos. "[There's] a lot of love, a lot of fighting, a lot of refereeing; a lot of teeth-brushing and spilling…," he explained. "Chaos, total chaos. But so much fun," Pitt said.
Who will end up taking custody of Maddox? For now, there's only speculation. In a statement to Reuters, Jolie's attorney, Robert Offer, said, "This decision was made for the health of the family. She will not be commenting, and asks that the family be given its privacy at this time."
Still, this is the most famous family in America, so it's not surprising that a lot of people want to know where the first Jolie-Pitt will end up.