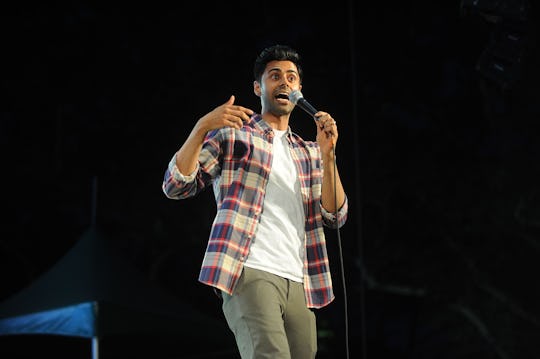 Brad Barket/Getty Images Entertainment/Getty Images
Who Will Give The Correspondents' Dinner Roast?
On Saturday, entertainers and journalists will come together for the 2017 White House Correspondents' Dinner. Noticeably absent, though, will be President Donald Trump; he tweeted back in February that will skip this year's event. Trump's absence will no doubt make Daily Show correspondent Hasan Minhaj's job hosting the dinner tougher. But it also begs the question: Who will give a roast at the White House Correspondents' Dinner if not the president?
The White House Correspondents' Association's annual fundraiser has worked much the same way for the last few decades. The emcee of the night, usually a well-known comedian, will roast the president after the president gives their initial, joke-filled speech, according to ABC News. Seth Meyers, Jimmy Kimmel, and Cecily Strong have all roasted former President Barack Obama at the White House Correspondents' Dinner. Former The Nightly Show host Larry Wilmore delivered a sharp, poignant, and controversial monologue last April for Obama's last Correspondents' Dinner roast as president.
It's unclear who will take Trump's place (I'm holding out for Alec Baldwin) at Saturday's event. What is known is that Trump will hold a rally in Harrisburg, Pennsylvania, the same day as the dinner. According to Philly.com, the president is heading to the Keystone State to celebrate his 100th day in office. (Trump's first 100 days, by the way, have been the worst on record, according to the New York Times.)
Saturday's White House Correspondents' Dinner will be the first time Trump will be roasted, in some regard, as president. But it's not the first time he has been roasted at the dinner. In 2011, both Obama and host Seth Meyers took shots at Trump, who showed up that year's Correspondents' Dinner as a potential Republican presidential candidate, according to NBC News. The duo joked about everything from Trump's hair to his conspiracy theory that Obama wasn't born in the United States. Less than a month later, Trump dropped his presidential ambitions for the 2012 race, NBC News reported.
To be honest, it's probably best that Trump is skipping the White House Correspondents' Dinner on Saturday. After all, the president hates the media. He thinks any outlet that reports on factual information that paints him in a bad light is "fake news." His administration has banned media outlets from the White House and he has talked about restricting the press. Putting him in a room full of journalists would not bode well.
According to GOOD, Minhaj said in a statement about his hosting duties,
It is a tremendous honor to be a part of such a historic event even though the president has chosen not to attend this year. SAD! ... Now more than ever, it is vital that we honor the First Amendment and the freedom of the press.
You can't do that with Trump around.