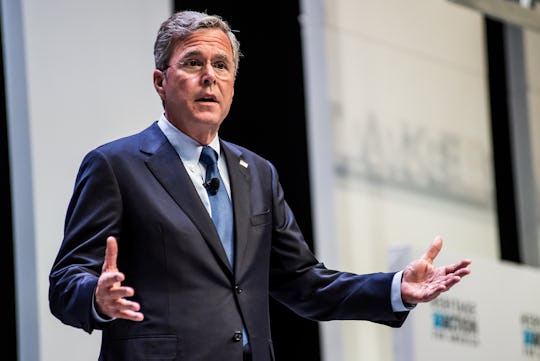 Sean Rayford/Getty Images News/Getty Images
Who Will Jeb Bush Endorse For President? No One's Sure, But It Probably Won't Be Trump
On Saturday evening, following another disappointing showing, this time in South Carolina, former Florida Gov. Jeb Bush announced that he was suspending his presidential campaign. With tears in his eyes, Bush took the podium and declared that "the people of Iowa and New Hampshire and South Carolina [had] spoken", and that he "really respect[ed] their decision." With Bush on the way out, many are left wondering who Bush will endorse for President next, as it will most likely cause a stir, no matter who he chooses.
After his emotional speech and subsequent campaign suspension, it comes as no surprise that Bush may need some time to come to terms with his failed presidential aspirations before announcing which GOP candidate he'll back. As The New York Times pointed out Saturday evening, Bush had $100 million dollars, a famous last name, and political clout at his disposal, yet none of it seemed to matter. Disappointment, I'm assuming, is probably not a strong enough word to describe Bush's current state of mind.
But, when the dust settles, the likely choice for Jeb Bush will be Marco Rubio. Rubio was a one-time political understudy of Bush in Florida and, according to Politico, Bush is already being pressured to back the young GOP candidate. In 2012, Bush claimed he would make Rubio his vice-president nominee, and while he will no longer be able to make good on that promise, Bush can assist Rubio in becoming the next Republican presidential candidate.
In many ways, Bush was a political mentor to Rubio, so it will be a shock if the ex-governor doesn't endorse his friend. It would be even more shocking if Bush decided to back Donald Trump; The Republican presidential candidate, who won the South Carolina primary on Saturday night, has been anything but kind to Bush throughout their respective campaigns.
It would be odd if Jeb endorsed either Ben Carson or John Kasich. Backing either one would seem like a throw-away endorsement, although it would be a clear slight to GOP frontrunner Trump. There are some rumors that the tension between Rubio and Bush has made Kasich a potential choice for Bush, but others close to the former governor claim that Bush and Rubio's friendship is still intact and that a Kasich endorsement is out of the question.
And then, of course, there's Ted Cruz, who finished third in the South Carolina primary and has been a top contender throughout the race. Cruz and Trump have been battling it out, throwing malicious accusations at one another, so if Bush were to endorse Ted Cruz, it would likely only be done as an affront to Trump.
While no one knows, for sure, who Jeb will endorse, one thing is for certain: If he fails to endorse Rubio, it will be obvious that a tenacious and sometimes downright mean presidential campaign ended a long-standing friendship between two Republican politicians.