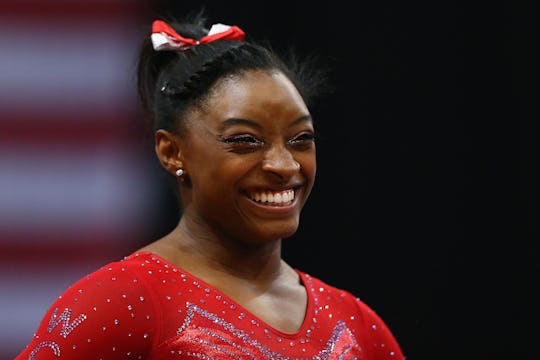 Maddie Meyer/Getty Images Sport/Getty Images
Who Will Qualify For The U.S. Women's Gymnastics Team? 5 Gymnasts Will Compete In Rio
Spectators who go crazy for the Olympics may still be recovering from gymnast Gabby Douglas' dynamic, breathtaking performance in London four years ago — you know, when the 16-year-old catapulted from the high beam to stardom when she won gold in both the individual all-around and the team events, becoming the first American woman to do so, ever. Along with her four teammates, she absolutely killed it, and now it's time to find out who will qualify for the U.S. Women's gymnastics team ahead of the August Games in Rio de Janeiro. Douglas is poised to build upon the explosive success of her freshman Olympics, and she'll definitely share the experience with some first-time Olympians as well.
All of the drama, victories, disappointments, shocking twists, tears, and celebrations (I'm just spitballing here, from the couch) of the gymnastics Olympics trials will go down on Friday, July 8, and Sunday, July 10. According to NBC News, 14 gymnasts either qualified or were invited to the trials, including Douglas and her 2012 teammate Aly Raisman, who won two golds and a bronze in London.
Only five of these talented athletes will make the team, and one Olympic newcomer is expected to be the first chosen — and take home gold: 19-year-old Simone Biles.
While the Olympic Selection Committee will handpick four of the team members based on each athlete's individual strengths in order to form a well-rounded team, the all-around champion of the trials will earn an automatic spot. Douglas clinched that position in 2012, but this year Biles, who's won the all-around at the World Championship three years in a row, is projected to best her for the honor.
Before the Olympics even open, Biles is garnering accolades from the likes of 1984 all-around champion Mary Lou Retton, who called her the best gymnast in history, according to The New York Times. And Martha Karolyi, the women's national team coordinator and head of the selection committee, is all about her as well.
"[Biles is] definitely on top of my list," she told the Times. "She's a great combination of physical abilities and strong mind. Oh, that's what we want. That's a package!"
Known for her giggly, relaxed personality, Biles has also been on Ellen, so it's clear that she has all the characteristics she needs to become another of America's Olympian sweethearts:
Although Douglas may not secure the automatic spot this time around, it's all but certain that the now-20-year-old Olympic veteran will join the team. She knows it, too: "It means so much to me that I just have a very healthy body and a capable body to go back and defend my title and just go back to another Olympic Games," she told The Huffington Post. "It's just truly, truly awesome."
In addition to Biles, Douglas, and Raisman, 11 other Olypmic hopefuls will compete in the trials. They are Christina Desiderio, Brenna Dowell, Rachel Gowey, Laurie Hernandez, Amelia Hundley, Madison Kocian, Ashton Locklear, Maggie Nichols, Emily Schild, MyKayla Skinner, and Ragan Smith.
Each of these athletes are, of course, accomplished gymnasts who undoubtedly want to represent the United States in Rio more than anything, and have worked incredibly hard for the opportunity. Smith, for example, beat out Raisman for balance beam gold at the Pacific Rim Championships this year, and Schild was part of the U.S. women's team that won gold at the 2015 Pan American Games.
In February, five of these women talked with the TODAY show about the prospect of heading to the Games, whether as a debut or repeat performance. "We've trained all these years and it would just be awesome to have my hard work finally pay off and especially like six more months I just have to give it my all and do the best I can," Skinner said.
Of course, these young athletes in the running for a spot on the U.S. Women's women's gymnastics team have trained for years and worked hard, so whoever represents the United States in August will likely enthrall us once again, just as Douglas, Raisman, and the rest of the "Fierce Five" did in 2012.