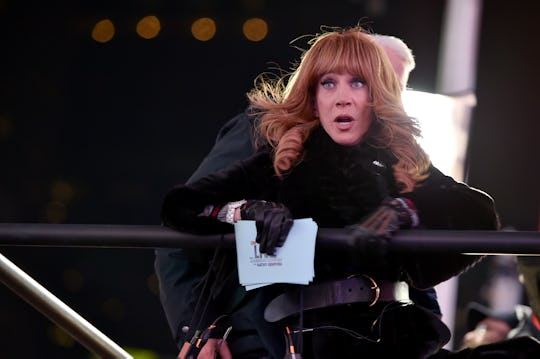 Theo Wargo/Getty Images Entertainment/Getty Images
Who Will Replace Kathy Griffin At CNN?
On Wednesday, CNN announced it was terminating Kathy Griffin's contract in her role as New Year's Eve Live co-host with Anderson Cooper. Griffin was fired after a controversial photo shoot depicting the 56-year-old comedian holding a bloodied but fake Trump mask as a though it were a severed head. Who will replace Kathy Griffin at CNN? So far, there's no word yet from the 24-hour cable news giant; neither the network nor representatives for Griffin immediately returned Romper's request for comment.
Griffin has apologized for the photo, telling Twitter followers she was "sincerely sorry" in a video message Wednesday morning. The especially gruesome staged photo of Griffin holding Trump's severed head has been condemned by President Trump himself, as well as Griffin's New Year's Eve Live co-host, Anderson Cooper. "For the record, I am appalled by the photo shoot Kathy Griffin took part in. It is clearly disgusting and completely inappropriate," Cooper tweeted on Tuesday night.
CNN also harshly condemned Griffin's actions, calling them "disgusting and offensive" in a statement made late Tuesday night. At the time, Griffin's role on CNN's New Year's Eve coverage was still up in the air, according to the network's statement. But by Wednesday afternoon, it was clear CNN execs had made the decision to axe Griffin from their New Year's lineup.
Griffin and Cooper began co-hosting New Year's Eve Live in 2007 for CNN. The My Life on the D-List star is best known for her antics during the live broadcasts, including everything from dropping the F bomb on live TV, to stripping down to her bra in the last minutes of 2015. She's also known for relentless ribbing of her co-host (read: basically driving Cooper nuts for two hours on the last day of December since 2007). Griffin and Cooper's unique rapport has been CNN's key selling point for their New Year's Eve broadcast, but now that Griffin is out, it's unclear who could possibly fill her shoes with anywhere near the same amount of brassy extravagance and biting charm.
Prior to Griffin's co-hosting New Year's Eve Live gig with Cooper, the veteran journalist was the sole, main host of the show, which first broadcast as a standalone special in 2003. Previous New Year's Eve Live guest hosts have included Playboy millionaire Hugh Hefner, pop rock icon Cyndi Lauper, and rapper Wyclef Jean. While it's entirely possible that CNN may not replace Griffin for this year's New Year's Eve special, there's no denying that Griffin's firing marks the end of an era for the show.
Griffin learned the hard way that while she's well within her First Amendment rights to publish that photo, that doesn't mean her free speech comes consequence-free.