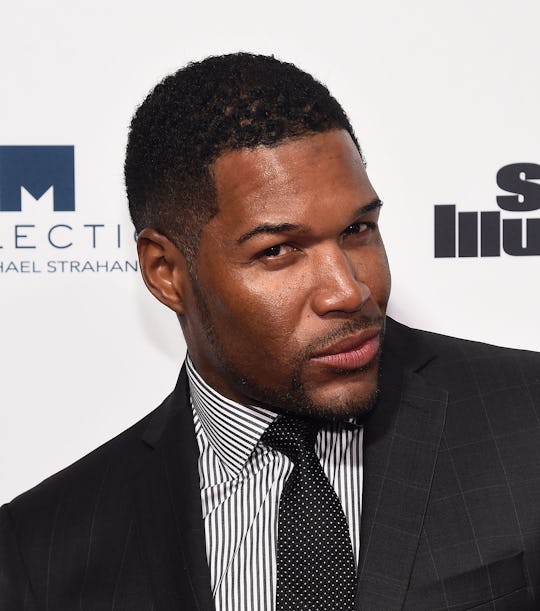 Ilya S. Savenok/Getty Images Entertainment/Getty Images
Who Will Replace Michael On 'Live! With Kelly and Michael'? Replacing Him Won't Be Easy
Michael Strahan just announced he's leaving Live! With Kelly and Michael after just four years to join the team at Good Morning America full time. Strahan joined the perky Ripa on the morning show staple in 2012 after a high-profile search for a replacement for former host Regis Philbin. So fans are left to wonder who will replace Michael on Kelly and Michael? Producers said an audition process similar to the one that selected Strahan will start in the fall.
A memo from ABC News president James Goldston and obtained by Us Weekly announced the shift in Strahan's role:
Michael has been a stellar addition to the broadcast. Over the past two years on GMA, he's proven to be a tireless and versatile broadcaster with an incredible ability to connect with people, from veterans to American pop culture icons and newsmakers. He will end a four year run as Kelly Ripa's co-host on Live!, where he has honed his skills as an interviewer with genuine warmth and a quick wit. At GMA, he'll now have even more opportunities to tell stories that inspire, inform and empower people.
Wow. Can we just take a minute to give props to Strahan, who, at just 44 years old has already had a wildly successful NFL career and now just nabbed one of the most coveted jobs in all of television. Not too shabby, man.
But he will definitely be missed by his faithful Live! viewers, like this fan on Twitter who summed up the exit with the hastag #wholeavesKelly. Agreed.
Now, as for a new co-host for Live! With Kelly and Not Michael Anymore, I'd like to make a couple of suggestions. First, it goes without saying that Ripa is a queen. She doesn't really need a co-host at all, in my opinion, so if they wanted to just get rid of the spot all together, I'm not sure the show would suffer much. But audiences might miss out on the fun banter between Ripa and her co-host about her family's crazy adventures and the latest headlines, so let's just assume there absolutely must be a replacement for Strahan and hope producers pick someone who will let Ripa shine.
Neil Patrick Harris was great when he auditioned back when Philbin left. He's talented, funny, and willing to share. I'm not the only one who immediately thought of NPH as a replacement.
Anderson Cooper was another fave, but he's already got a full-time gig at CNN. Or maybe Live! could grab another recently-retired athlete and reach out to Kobe Bryant. Bryant and Ripa would have that big-dude, tiny-lady juxtaposition that made Ripa and Strahan such a compelling TV duo. Or the show could go all-in for publicity and choose someone in the headlines like Ivanka Trump. Admit it, you'd love to see The Donald's daughter talking about the day's headlines.
No matter who they choose, it will be fun to watch all the candidates try to win the job. Maybe Ivanka could use her experience on The Apprentice to land the gig. Just a thought.
Strahan joins GMA full time in September and sources are saying the new gig comes along with a hefty pay raise. Congrats to Strahan, but he will be truly missed.