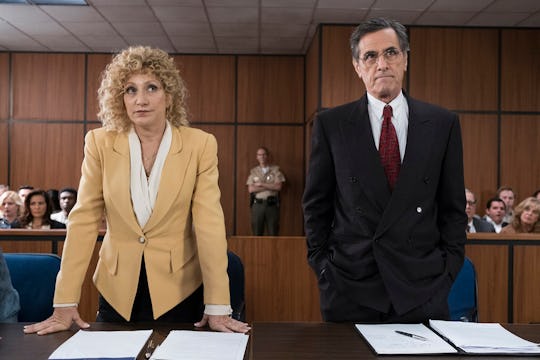 Justin Lubin/NBC
'Law & Order True Crime' May Undergo Some Changes In The Future
Law & Order True Crime is the latest addition to the franchise by showrunner Rene Balcer, and the first season of the anthologized series — which focused on the Menendez brothers and the murder of their parents — wraps up this week. So who will return for Law & Order True Crime Season 2? The show hasn't formally been renewed for a second season yet, but discussions are already underway for a possible case to focus on.
Balcer and executive producer Dick Wolf have talked about focusing on the 1995 Oklahoma City bombing carried out by Timothy McVeigh and Terry Nichols, which killed 168 people and was the deadliest domestic terror attack in the U.S. until September 11. According to The Hollywood Reporter:
Balcer recalls that Wolf immediately thought it to be Arab terrorists, 'and that's what everyone thought at the time. An hour and a half later, Tim McVeigh was under arrest, so our view of domestic terrorism changed,' he says. 'I think that would be an incredible case, especially in light of today's politics. There's pretty fantastic echoes in the present circumstances of the Oklahoma bombing and what was behind it. That would be a case that would interest me.'
But there aren't any details on whether the series plans to reuse its actors from Season 1 in subsequent installments of the anthology. Ryan Murphy was famously supposed to set the precedent for this with his similar true crime anthology American Crime Story. Actors including Cuba Gooding Jr., Courtney B. Vance, and Sarah Paulson from Season 1, which focused on the O.J. Simpson case, were supposed to return for Season 2, which was supposed to be about Hurricane Katrina. However, Murphy switched up his cases to focus on the murder of designer Gianni Versace for Season 2, postponing Katrina till Season 3, and losing all of his planned cast members except Paulson. No American Crime Story Season 1 actors are reported to be returning for Season 2.
Although it's a cool idea to recast the same group of actors in an anthology series á la American Horror Story, it's difficult to imagine how it can work for a true crime dramatization. At some point when you're casting actors based on real people, the pool of actors you're working with isn't going to be representative of the people whose story you're telling. Even though there are great character actors like Edie Falco and Sarah Paulson, one core cast can't possibly tell every story.
Edie Falco confirmed to THR that she hasn't been approached to do a second season of Law & Order True Crime: "There's been no mention of anything like that... I've been doing this for a long time now, and I know nothing is real until it's in front of you."
That said, there's a deep bench of big name actors from Season 1 who could probably tackle the character challenge of a whole new case moving forward. Besides Falco, there's Josh Charles, Heather Graham, ER alum Anthony Edwards, Masters of Sex's Julianne Nicholson, True Blood's Chris Bauer, and Grey's Anatomy Elizabeth Reaser. But due to their popularity, it's also difficult to imagine all of them having the time to sign on for another installment of Law & Order amidst other projects. Plus, while the show had a respectable first season, thanks to its time slot lead-in from This Is Us, it also didn't have the same breakout success as American Crime Story, so the show does appear to have room for improvements — including but not limited to switching up the casting.
Check out Romper's new video series, Romper's Doula Diaries:
Watch full episodes of Romper's Doula Diaries on Facebook Watch.