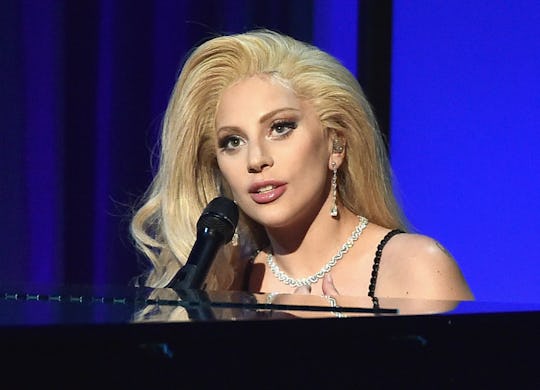 Kevin Winter/Getty Images
Who Will Sing The National Anthem At The Super Bowl? Lady Gaga Is Sure To Nail It
The Pepsi Super Bowl Halftime Show is starting to fill out with big acts but before all of that fun, it's important to know who will sing the National Anthem for the Super Bowl. This year, Lady Gaga will kick off the show before the actual kick off and it's bound to be spectacular. It's a pretty big deal — past openers include other big names like Whitney Houston, Diana Ross, Billy Joel, and Cher. Last year, Idina Menzel sang the anthem and had everyone feeling patriotic. Gaga has a lot to live up to.
But everyone knows that Gaga can sing. What's great about her opening up the Super Bowl is that it's a big sign that she's made it. Could you imagine the NFL choosing the provocative singer to perform America's anthem during her "Papparazzi" days? They never would have let her wear a meat dress on the field. But Gaga's image has changed over the years and this is a big part of it. Being asked to sing the National Anthem is an honor reserved for only the biggest, most respected pop stars, traditionally. It's the most "all American" thing a singer can do. But she has had some practice on smaller stages. At a New York City Gay Pride rally in 2013 she started the show and nailed every last note.
The anthem is notoriously tough to sing and it all depends on where you start the song in terms of vocal range. That's because the song starts super low and then jumps around in pitch. Kenneth Slowik, the Director of the Smithsonian Chamber Music Society, told Mary Kathryn Macko of the Smithsonian Museum blog that it's all about where a performer starts. He said that it's normal for different singers to change up the tune. "High f — it's traditionally sung in Bb major because going higher than that makes it hard for the altos and basses singing to get to the high note, and going lower makes it hard for the tenors and sopranos to manage." Lady Gaga is a mezzo soprano so she should have no problem hitting all the notes in a way that the crowd can join in with her.
Lady Gaga has recently been making the rounds crooning with Tony Bennet and was just nominated for an Oscar for her song "Till It Happens To You," from the documentary, The Hunting Ground. Singing in San Francisco this weekend for the NFL's biggest event is just one more notch to add to her (probably) Versace belt. It looks like 2016 is turning into Gaga's best year.