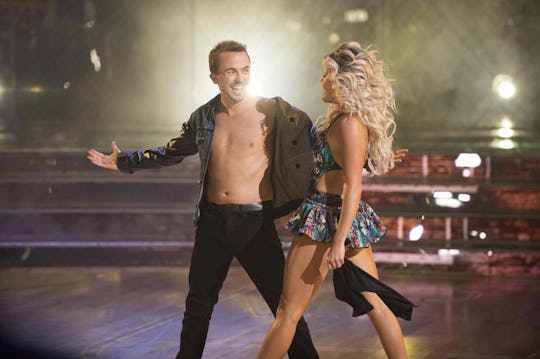 Eric McCandless/ABC
The Winner Of 'DWTS' Season 25 Isn't All That Difficult To Predict
The hour is nigh in which all of America will learn who the winner of Dancing with the Star's 25th season will be. If you are anything like me, then you probably have some pretty strong opinions about who you want to win this whole thing, and who you, well, don't. So who will win DWTS Season 25? Because I have thought longer and harder about this very question than is perhaps totally rational or healthy, I have come up with what I believe is the definitive ranking of the remaining contestants and their likelihood of winning this whole thing.
The remaining contestants are Property Brother Drew Scott, violinist Lindsey Stirling, child actor Frankie Muniz, and literal Broadway star Jordan Fisher. Frankly, I think this year's lineup of stars was a little stacked in the favor of the talented Broadway star who you just know has had professional dance training before. But I digress. Each of the stars has progressed a ton since the beginning of this ten-week journey, no matter where they originally started. So starting from least likely to most likely to win the Mirror Ball Trophy, here are my thoughts on the four stars going into the final week of competition.
Drew Scott
Look, Scott seems like a really nice guy. He does. He's great with real estate and self-deprecating humor and those are two qualities I really appreciate in a man. However. He is not a strong dancer and has officially overstayed his welcome on this show. To pretend that he can compete with the other three on the show is insulting to them as dancers. So to all of you Drew Scott fans out there, it is time to let him leave the dance floor.
Frankie Muniz
I'm pretty sure nobody expected Muniz to be doing as well in this competition as he is. After suffering devastating injuries during his career as a race car driver as well as several mini strokes, Muniz has claimed to have the body of an old man. That hasn't stopped him from climbing to the top of the leaderboard and scooping up perfect scores from the judges, however.
Lindsey Stirling
If there were any justice in the world, Stirling would take home this Mirror Ball trophy. She hasn't had any professional dance training, just relying on her own natural grace and athleticism. She is secretly my favorite competitor this season and also a clear favorite with the judges. Really, the only thing keeping her from winning this whole thing is the existence of the fourth and final competitor who has natural grace and athleticism and also experience dancing on a Broadway stage. There's really no competing with that. Which brings me to...
Jordan Fisher
I think we all knew from the beginning that Fisher was going to take this thing home, right? In addition to being one of the most recognizable figures in the ballroom right now, he's had the benefit of professional dance training from his work in musical theater, including Grease: Live! and Hamilton, a little musical on Broadway you've maybe heard of. Even though I knew he was going to win from the beginning, it is literally impossible to dislike or resent Fisher in any way. He's charming and charismatic, constantly talking about how much he loves his friends and family, and how grateful he is for his successful career. You may be a ringer, Jordan Fisher, but you totally deserve this Mirror Ball.
So no, I am not a soothsayer and I cannot tell you for sure that this is how everything is going to shake out. But it's really not that difficult to predict this time around. Unless those Property Brothers fans band together to give the trophy to Scott, in which case I may have to quit this show altogether.
Check out Romper's new video series, Romper's Doula Diaries:
Watch full episodes of Romper's Doula Diaries on Facebook Watch.