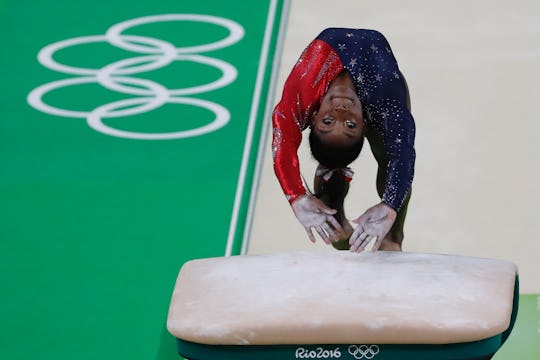 THOMAS COEX/AFP/Getty Images
Who Will Win The Women's Gymnastics All-Around Competition? All Bets Are On One Contender
The American women's gymnast team this year is stacked, and the ladies definitely didn't disappoint: They put on a veritable show on Sunday as they tackled the qualifying competition for the all-around final next week. On the American team, Simone Biles and Aly Raisman both qualified, and they'll be up against 22 other top gymnasts from around the world. But if you ask who will win the women's gymnastics all-around competition? The answer is probably (and unsurprisingly) Simone Biles.
Never mind the fact that Biles already beat out 2012's Women's Gymnastics champion in Sunday's qualifiers (sorry, Gabby Douglas). But the 19-year-old dynamo has also been praised by Olympians old and new, and she's even got neuroscientists grappling at explanations for her athletic prowess.
The thing about Biles is that she doesn't only excel at one event, as most gymnasts do — think American gymnast Madison Kocian, who is known for dominating at the uneven bars, and who qualified in just that on Sunday. While Kocian may have taken the top score for uneven bars during qualifications, Biles took the top spot for everything else: floor, vault, beam, and all-around. She's that good.
So why does everyone think Biles will be sweeping the Olympics? There are several reasons, and they're all good.
According to The Washington Post, Biles began training at age six after using living room furniture as her own jungle gym as she grew up. She was noticed early on by Aimee Boorman, who is still Biles' coach today and who has said Biles has an incredible "air sense."
Biles then made the choice, at 14, to be homeschooled during high school. It was not an easy choice: "The football games, just being a normal kid," Biles told The Washington Post. "I don't think anyone really wants to home-schooled by themselves for four years. ... There were weeks when I couldn't remember a day that I didn't cry."
But it paid off — allowing her to fit in competitions and a rigorous training schedule that often included 32 hours of training.
Whether as a result of her disciplined training or thanks to her naturally short, muscular body, Biles can do things that many other gymnasts simply can't — or at least won't risk at high-stakes competitions like the Olympics. Her signature move, a double layout, is manageable on the open floor because Biles is able to launch into the air after running far less of a distance than most gymnasts do. Boorman explained to The New York Times that Biles' strong run allows her to pull off more complex moves in a smaller amount of space.
All of that practice and skill has earned her top marks from other athletes. As Mary Lou Retton, 1984 Olympic gymnastics champion, told NBC:
She may be the most talented gymnast I've ever seen in my life, honestly. And I don't even think she's tapped into what she really can do. I think she's unbeatable.
Nastia Liukin, 2008's all-around champion, agreed. "She's the best gymnast that's ever lived on the women's side for sure," she told NBC. "She's the most talented gymnast I've ever seen in my life and obviously the Olympics will seal the deal."
So really, all odds are on Biles taking home the gold. And knowing Biles' moves, it'll be a win worth watching.