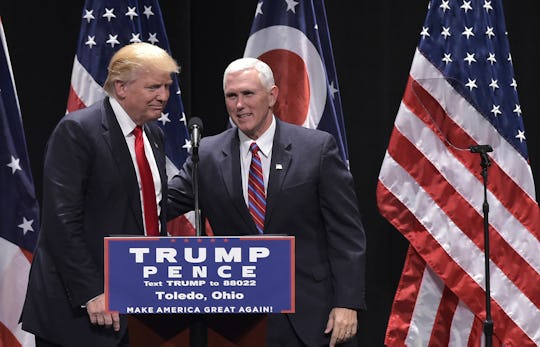 MANDEL NGAN/AFP/Getty Images
Who Would Replace Donald Trump If The GOP Dumped Him Before The Election?
From day one, Donald Trump has never been the ideal Republican Party candidate. But on Friday night, after a video of Trump making lewd comments about women was released, many people, even those within his own party, called for his resignation as the Republican Party presidential nominee. But who would replace Donald Trump if the GOP dumped him before the election? Dozens of GOP politicians have condemned Trump for his comments made the video — and to be sure, a few of them likely believe that they could do a better job. However, replacing Trump isn't that simple — in fact, it's really complicated.
An ABC News and SSRS survey research firm poll conducted over the weekend showed some pretty interesting numbers — 43 percent of Americans say that Trump should withdraw from the presidential race. At the same time, 53 percent of Americans polled said the video made them less less likely to vote for Trump. These are very bleak numbers for Trump and the GOP, whose leader, Reince Priebus, also condemned Trump over the video. Unfortunately, according to multiple sources it would be almost impossible at this point to get Trump's name off of the ballot, and replace it with someone else's. There are only 29 days left until the election and multiple states have already sent their absentee ballots out and have begun early voting.
Some people, however, appear to have found a solution. The solution would be not to vote for Trump, but instead, write in another Republican politician's name on the ballot come Nov. 8. Who is the ideal politician to write in, in place of Trump? Many have their support behind Trump's running mate — Indiana Gov. Mike Pence.
Pence already has people behind him. Former Republican Party primary candidate, Carly Fiorina has called for Trump to "step aside" and allow Pence to be the party's nominee. Nebraska Sen. Ben Sasse has also called for Trump to step down and allow Pence to replace him. New Hampshire Sen. Kelly Ayotte has even taken it a step further — declaring that she will write in Pence's name for president on the ballot, rather than voting for Trump or Hillary Clinton. Pence himself said that he "could not defend" Trump's remarks.
According to Politico, some believe that Pence could win the election, if it were to come down to him and Hillary Clinton — in fact, nearly 66 percent of GOP insiders agreed that this could be the case.
But don't look to Pence as the GOP champion for women's rights either. While Pence may have never made as many derogatory comments towards women as Trump has, his policies have tried to limit women in the past. To put it lightly, as CNN stated, "Pence has his own woes with women." These "woes" consist of his attempts to block federal funding to Planned Parenthood and sign a bill that would allow businesses to deny services to same-sex couples due to "religious objections." So while Pence may seem like the better alternative to some, to others he could be just as bad as Trump — just not as vulgar as his running mate.
While it is highly unlikely that the GOP will replace Trump or that Trump will resign, it is nonetheless interesting to picture a Trump-free election. Whatever happens, it's likely that many of the politicians telling Trump to step aside will become full supporters for Pence in the 2020 election. How does President Pence sound to you?