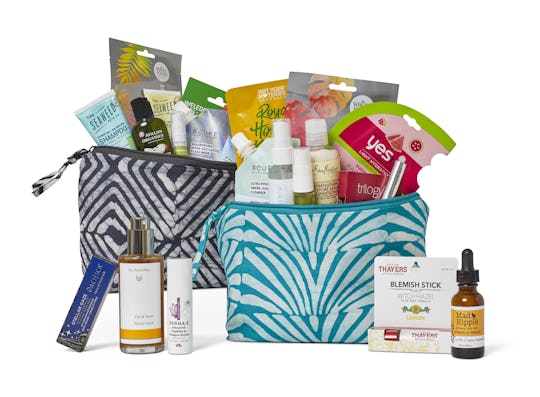 Whole Foods Market
Whole Foods Beauty Week Is Here, So Now's The Time To Try The Trends
The clean beauty movement is going strong, but that's no surprise if you're a Whole Foods shopper. The popular natural grocery chain has been a prime destination for clean beauty since people found out that "paraben" is a bad word to see on a label. That's especially true during Whole Foods Beauty Week, when tons of clean beauty products go on sale — from the staples you can't live without to buzzworthy new products you've been dying to try.
From Wednesday, March 11, through Tuesday, March 17, the store's entire selection of facial skin care, hair care, makeup, nail polish, perfume and cosmetic accessories will be 25% off, with an additional 10% off the discounted price for Prime members, according to a press release. (And if you want to get a head start, you can actually "pre-shop" the sale now, put your faves on hold in-store, and come back to make your purchases during the sale.)
If you're a Whole Foods Beauty Week veteran, you know that the Beauty Bags are the best part. Available in limited quantities beginning on Friday, March 13, the bags retail for $20 and are stuffed with an assortment of full-sized and miniature products from clean beauty brands like Dr. Hauschka, ACURE, and more, valued at over $120 each. (That's right; you're getting $120 worth of stuff for 20 bucks.) You can choose between two curated Beauty Bags this year: the Conscious Beauty Kit or the Renew Your Beauty Ritual. (The bags themselves are cool, too — colorful zippered pouches from Queen Alaffia, handprinted by artisans in Togo, West Africa.)
The products featured in this year's bags reflect the second annual list of top five beauty and wellness trends for the year, chosen by Whole Foods Market global beauty buyers and experts: bakuchiol, blue light defense, watermelon infusion, glycolic acid and all-over body masks. The products below will give you a better idea of what those trends are all about, as well as a sneak peek at the products you can expect to find both in bags and on the shelves.
Seeking out clean beauty could be more important than you think, and Whole Foods has promised not to carry items containing over 100 potentially harmful ingredients commonly found in conventional body care products. (The full list is on the Whole Foods website but includes phthalates, microbeads, triclosan, BHT, BHA, aluminum chlorohydrate, and more.)