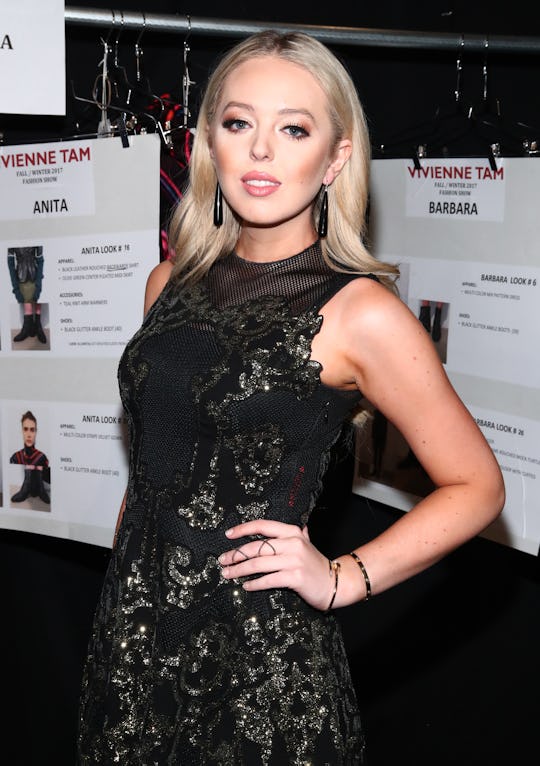 Astrid Stawiarz/Getty Images Entertainment/Getty Images
Tiffany Trump Just Got A Sweet Fashion Week Invite
At a New York Fashion Week show this week, first daughter Tiffany Trump appeared to have experienced the fallout from her father's divisive presidency, though it was later discovered that this may not have been the case. Unfortunately, it seems that Tiffany's plans to fly under the radar and have a fun afternoon out didn't exactly pan out that way, with at least one show attendee claiming that several fashion editors had refused to sit next to Tiffany in the audience, an incident that the attendee later walked back for confused Twitter users. Regardless, it was Whoopi Goldberg later offering to sit with Tiffany at the Fashion Week show that warmed everyone's hearts nonetheless, and though it may have been a little late to take up Goldberg's offer, it appears Tiffany was grateful regardless.
President Trump, Tiffany's father, has been accused by many of bullying his opponents, or resorting to underhanded behavior when he doesn't get his way. This week, it initially appeared that Tiffany herself may have been subjected to a little unfair treatment, solely because of her relation to the current president. According to an attendee who snapped photos of Tiffany sitting next to a row of empty seats at a Phillip Plein show on Monday — writer and reporter Christina Binkley — a handful of fashion editors reportedly seemed to decline sitting next to the first daughter. While Binkley's Twitter feed was later protected, she initially claimed that the show started late as fashion editors were "fleeing" from possibly being placed next to Trump.
When actress and outspoken Trump critic Whoopi Goldberg got wind of the alleged fashion show incident, she reached out to the young model and student on The View, saying,
You know what, Tiffany, I'm supposed to go to a couple more shows. I don't know what's going to happen, but I'm coming to sit with you. Because nobody's talking politics. You're looking at fashion. She doesn't want to talk about her dad. She's looking at the fashion.
In a later follow-up, however, Binkley clarified what had apparently happened, telling CNN in an email:
Two young women seated on her left said they didn't want to be seated beside her, and they left to find seats elsewhere. I saw it as a newsworthy example of tensions arising over the Trump family, tweeted a photo, and thought I might write about it later. But within a minute or two, a well-known creative director and a friend sat in the seats.
Thankfully — and apparently to Binkley's relief — the "incident" turned out not to be much of an incident in the end. But perhaps what we should focus on here is Goldberg's response: she has been a staunch critic of President Trump for years, at times referring to him as a racist and even comparing his politics to that of the Taliban. But she is a decent human being. Sure, she doesn't want to talk politics with Tiffany Trump — and as she said on The View, that's kind of not the point. It's about being gracious and kind, despite disagreements with people.
Tiffany later thanked her for the mention, tweeting, "Thank you, @WhoopiGoldberg, I'd love to sit with you too!"
Despite the fact that, as Binkley later clarified, the alleged "bullying" ended up being nothing more than a misunderstanding, it was still refreshing to see the coming-together that the moment produced. Maybe we should all just sit with one another at a New York Fashion Week show — if it fixes the current divisiveness in the United States, we'd be willing to try it.