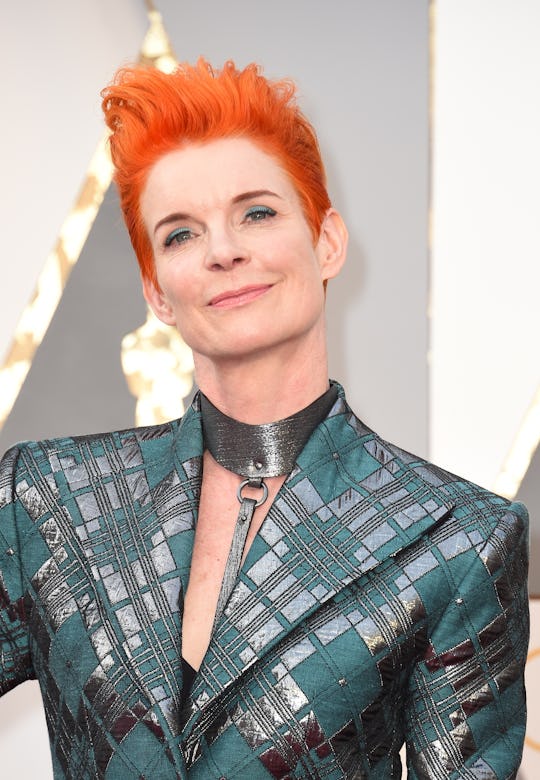 VALERIE MACON/AFP/Getty Images
Who's Dressed As David Bowie At The Oscars? Sandy Powell's Outfit Made A Statement
While the Academy Awards are all about celebrating Hollywood, the best movies, and the best performances of the year, the Oscars are also known for showcasing the best (and, sadly, sometimes the worst) the fashion world has to offer. Some actors and actresses hit the nail on the head, others missed the mark, and one, specifically, had us asking: Who's dressed like David Bowie at the Oscars? The answer: the untouchable costume designer Sandy Powell, who worked on the film Carol, and she rocked the Starman-inspired look flawlessly.
Although Powell was mistaken for Tilda Swinton (honestly, guys, just try using Google every once in a while), there was no mistaking her look for that of the late David Bowie. Powell slayed in what can only be described as a power suit: the pants were bell-bottomed; the entire suit was green and embellished with intricate, geometric shapes; and the look was completed with Powell's high and tight, bright orange hair cut. If you were still trying to get over Lady Gaga's Bowie tribute at the Grammy's, good luck, because it's obvious that the music world, the movie world and, well, the entire world, just can't say a definitive goodbye to the man who sold the world.
Powell is best known for her work as the costume designer in Martin Scorsese films like The Departed, The Wolf of Wall Street, and Shutter Island. The world-renowned designer already has 12 Oscar nominations and three Oscar wins to her name, previously taking home the golden man in 1998 for Shakespeare in Love, in 2004 for The Aviator, and in 2009 for The Young Victoria. According to The Hollywood Reporter, there's only one costume designer with more Oscars wins than Powell (a factoid that could very well change if she takes home an award for her incredible costume design in Carol tonight).
Powell's ability to pay attention to the tiniest detail as well as transport audiences to a time period that makes a story all the more believable makes it easy to see why she'd so seamlessly channel Bowie and to step outside of what others consider "normal" red-carpet fashion. Whether she's working with actors and actresses behind a camera or she's stepping in front of a camera during Hollywood's biggest, most enchanting night, one thing is for certain: Powell knowns how to turn heads and start a conversation.
Stunning. Just like Bowie himself.