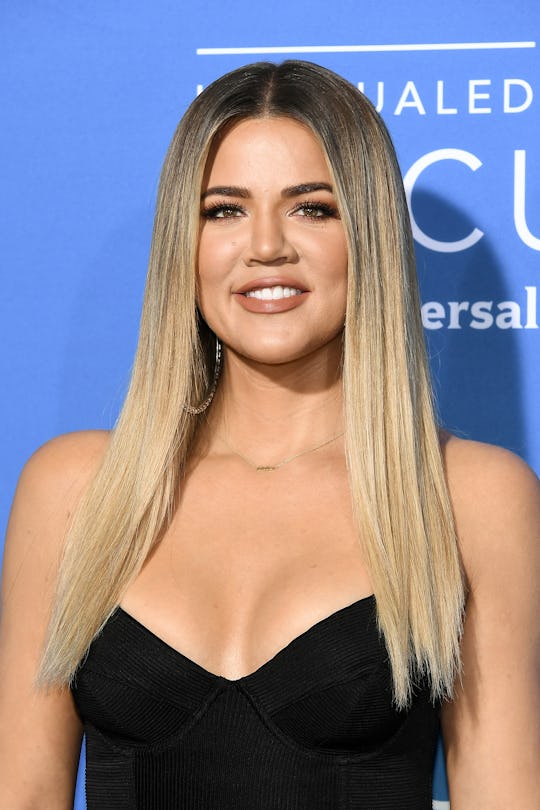 Dia Dipasupil/Getty Images Entertainment/Getty Images
Khloe's Pregnancy Announcement Includes A Special Appearance
After months and months of waiting and speculating, Khloé Kardashian confirmed her pregnancy on Instagram in a message that is beyond sweet and fans will love. But who is holding Khloé's stomach in her pregnancy announcement? Though you can't see either of their faces, I think the answer is pretty obvious, at least to many fans out there. But first, let's talk about the photo and caption itself.
"My greatest dream realized," Khloé wrote on Instagram showcasing her baby bump front and center. "We are having a baby! I had been waiting and wondering but God had a plan all along. He knew what He was doing. I simply had to trust in Him and be patient."
The message went on to say:
I still at times can't believe that our love created life! Tristan, thank you for loving me the way that you do! Thank you for treating me like a Queen! Thank you for making me feel beautiful at all stages! Tristan, most of all, Thank you for making me a MOMMY!!! You have made this experience even more magical than I could have envisioned! I will never forget how wonderful you've been to me during this time! Thank you for making me so happy my love! Thank you to everyone for the love and positive vibes! I know we've been keeping this quiet but we wanted to enjoy this between our family and close friends as long as we could privately. To enjoy our first precious moments just us ❤️ Thank you all for understanding. I am so thankful, excited, nervous, eager, overjoyed and scared all in one! But it's the best bundle of feelings I've ever felt in my life!
Aside from the bump itself, you can see that two pairs of hands are holding her stomach. So who do they belong to? One pair is definitely Khloé's (and might I add, that is a very nice ring that she's sporting on a very telling finger). As for the other pair, I feel confident in saying they belong to Tristan Thompson, the father of Khloé's child. I mean, it makes the most sense and honestly makes the post even sweeter, seeing them joined together to celebrate such exciting news.
As you can imagine, Twitter has gone into overdrive with questions and enthusiasm, both in equal measure. Are Khloé and Tristan married? Are Khloé and Tristan engaged? When exactly is she due to give birth? All of these questions will be answered in time, I'm sure, especially now that the family is opening up about the pregnancy.
But, of course, this news isn't completely shocking. Back in September, rumors swirled that Khloé and Tristan were expecting their first child together. Later on, there were also reports that they will be having a son, though the post that Khloé posted didn't indicate what the gender may be. But really, at this point, it doesn't really matter. It's just so nice to have a confirmation and see the joy that this little bundle is already bringing into their lives.
If I'm being completely honest, I was confident it was going to be announced during the Keeping Up With the Kardashians midseason finale. But I should've known that this family never does what's expected. And really, that's kind of what we all love about them, right? Plus, I like that it seems this allowed Khloé to share the news on her own terms and in a way that made her feel most comfortable, which is the most important thing. Congratulations to the parents-to-be!
Check out Romper's new video series, Romper's Doula Diaries:
Watch full episodes of Romper's Doula Diaries on Facebook Watch.