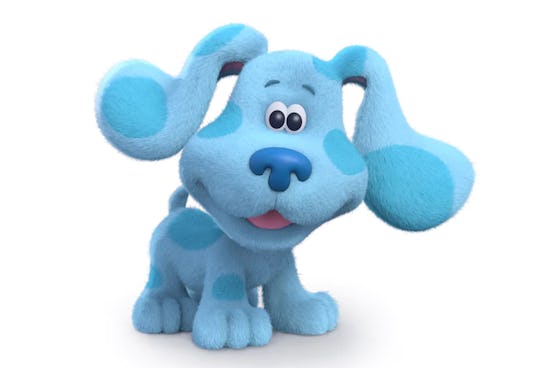 Courtesy of Nickolodeon
ATTN: Nickelodeon Has Finally Found Steve 2.0 For The 'Blue's Clues' Reboot
Guys, good news: I think I just figured out Blue's Clues. And yes, I'm pretty sure it's because I'm really smart. Well, I've at least figured out one vitally important element of Blue's Clues, at any rate. I know who is hosting the Blue's Clues reboot that every 90s kid has been waiting to watch with their own little ones. Or just by themselves, or even at a party after maybe a drink or two to make it more interesting. However you're planning on watching it, no judgment here. The most important thing is that Nickelodeon has found a new Steve for all of us to enjoy, and that's super exciting.
I'm sure most of us remember the original host of Blue's Clues, Steve Burns, who hosted from 1996 to 2003, according to The Hollywood Reporter. How could anyone forget his endearingly sincere face when he was hanging out with his dog Blue or Blue's pal Magenta (side note: how much did you love the fact that Blue was a girl puppy and Magenta was a boy? Very forward-thinking.) And who could forget his green-striped rugby shirt and his child-like hair cut? Well, it seems as though Burns will not be a part of the Blue's Clues reboot, which will be getting a new host and a new name as well.
Blue's Clues and You, which is the name of the new Nickelodeon series, will be hosted by Broadway performer Joshua Dela Cruz, according to PopSugar. This star certainly seems like he's hitting that sweet spot of being a solid actor (he recently enjoyed a successful run in Disney's Aladdin on Broadway, according to PopSugar) and having a sort of approachable innocent air that I think kids are going to really love.
Plus, he got two thumbs up from former host Steve Burns, who said in a statement to People, "I had the great honor of being a part of the search for the new host, and I give Josh two thumbs up! He can definitely fill my shoes, and the rugby shirt."
The host of the show might be new, and the name might be changed, but it sounds like Blue's Clues and You will follow the same winning premise as before, according to The Hollywood Reporter:
In "Blue's Clues & You," beloved puppy Blue invites viewers to join her and the live action host on a clue led adventure and solve a daily puzzle. With each signature paw print, Blue identifies clues in her animated world that propel the story and inspires viewers to interact with the action.
The show has been picked up for at least 20 episodes, and Dela Cruz told HuffPost that he hopes to bring something special as Steve version 2.0:
I am super, super silly. That's probably the biggest thing about me. I am a clown among my friends. I have terrible dad jokes, so you can expect me to bring all of that humor to the learning and curriculum.
As exciting as it is to finally get confirmation that Blue's Clues has a new host, some fans might be slightly disappointed that wrestler John Cena didn't get the gig. In March, Cena showed up to a Nickelodeon event for a fake "audition" to be the new host and everyone got really excited.
Despite the fact that the sight of Cena in Steve's old rugby shirt went viral (because of course it did), there were apparently never any plans to bring him on board to sit in the Thinking Chair and hang out with sweet puppy Blue.
Which is great, because I have faith that this new host, who has been given the OG Steve's seal of approval, will bring something fresh to the show. Or more of the same; either way it's just nice to be back.