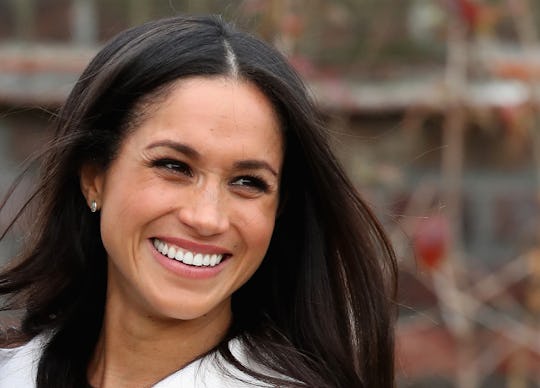 Chris Jackson/Getty Images Entertainment/Getty Images
Who's In Megan Markle's Bridal Party? Her Choice Makes A Lot Of Sense
Wouldn't it be the best thing ever to be a member of Meghan Markle's bridal party? Beyond the fact that you would be friends with Meghan Markle, and therefore are probably just chill and stylish, you would also get to be a part of a royal wedding -- which could make you sideline famous. Much like Pippa Middleton at her sister Kate Middleton's 2011 wedding to Prince William, maybe it could be your super toned butt that becomes part of modern history. If you're wondering who's in Meghan Markle's bridal party, I'm sad to tell you guys that it's probably not who you think. So, dreams of a super swanky celebrity bridal party mash-up with groomsmen from the British monarchy will have to remain a dream, or at least a storyline for my next made-for-TV movie script.
The internet has been swept up with rabid speculation about who might be in Markle's bridal party for several months. Tennis royalty, Serena Williams, was considered a front runner for the position of matron of honor for a few reasons; first of all, she and Markle have been friends for some time, and also I suspect people just really wanted to see Serena Williams walking down the aisle at St. George's Chapel on May 19. She would be a tennis queen walking past an actual queen, and that would be amazing.
Sadly, Williams won't be in the bridal party. Nor will another close friend of Markle's, Jessica Mulroney (a wedding planner who is married to the son of former Canadian Prime Minister Brian Mulroney), who was considered the likeliest choice for a matron of honor. Markle and Prince Harry reportedly spent time with the Mulroneys when she was filming Suits in Toronto.
There are plenty of other friends who would probably be happy to be a part of Markle's big day; Priyanka Chopra, Abigail Spencer, and Sarah Rafferty among them. And that's sort of the issue with Markle, according to royal correspondent Victoria Murphy, who told Town and Country:
[Meghan] has a very close knit group of friends and did not want to choose one over the other.
Rather than culling through her list of friends and risking hurt feelings, Kensington Palace announced on Friday that the future princess would go the traditional royal wedding route and fill her bridal party with children. She's not even having a maid of honor, according to The Independent, which means no one will get their Pippa Middleton moment.
While American brides tend to choose from their close female friends to be in their bridal party, it's a longstanding British tradition to have children and young teenagers fill the roles of bridesmaids and page boys.
And you know what this means, right? We'll most likely see 3-year-old Princess Charlotte as a bridesmaid! I mean, the names of the bridesmaids and page boys weren't announced... but, yeah, it makes sense that Charlotte and her 4-year-old brother, Prince George, will be in the wedding party. How exciting!
Jessica Mulroney might not be part of the bridal party, but her adorable 4-year-old daughter, Ivy Mulroney, could most certainly make the cut. Especially considering the fact that Markle has been taking great pains to include elements from her own life while being respectful to the British royal traditions. She is reportedly hoping to add her own favorite flowers, peonies, to the traditional white bridal bouquet favored by royals, and she has very wisely changed the flavor of the wedding cake from fruit cake (which nobody loves) to lemon elderflower cake (which I want to try).
So, it makes perfect sense that she might also want to include the child of one of her own, personal friends in her bridal party.
All in all, this British wedding tradition is one I can get behind! It saves the bride from having to cherry-pick from her friends. It also means that royal watchers will be treated to little girls in frothy dresses on the big wedding day. Honestly, what's not to love?