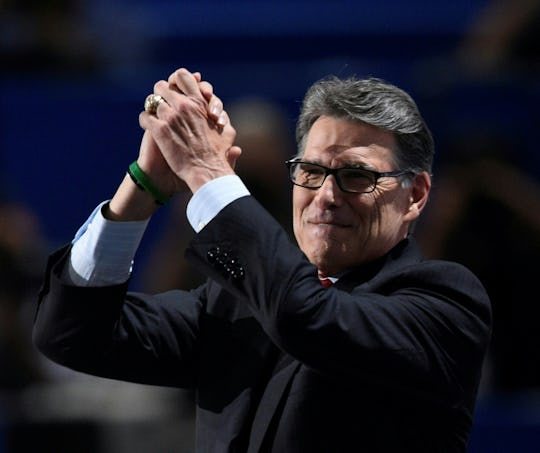 DOMINICK REUTER/AFP/Getty Images
Who's On 'Dancing With The Stars' Season 23? The Cast List Is Completely Bonkers
The cast of Dancing With The Stars has been announced, and it reads like the guest list of a dinner party dream someone had after eating a whole plate of nachos and going to bed with a 102-degree fever. The only person missing is the ghost of Rue McClanahan. As usual, there are a few "Who?" and "Huh?" guests, but the majority of Dancing With The Stars Season 23 cast is fairly noteworthy.
As expected, scandal-plagued Olympic swimmer Ryan Lochte will appear, according to People, and it's been stressed once again that this was all arranged before he got himself into that messy gas station vandalism/fake robbery situation in Rio. Repeat: he is not just appearing on DWTS to rehab his image, but hey, it certainly won't hurt. And he's not the only gold medalist showing up; he'll be joined by Team USA gymnast Laurie Hernandez, who will probably win just by doing 100 back flips while her partner, Valentin Chmerkovskiy, just stands there and looks pretty. It seems a little unfair to have a 16-year-old gymnast competing with a bunch of old folks whose bodies aren't finely-tuned instruments; I'll be pretty shocked if she doesn't win.
Now, let's get the less exciting contestants out of the way so we can talk about the good ones. We've got country singer Jana Kramer, The Fosters' Jake T. Austin, Little Women: LA star Terra Jolé, Canadian race car driver James Hinchcliffe, and retired football man Calvin Johnson. Why do football men keep showing up on DWTS? Is there a big overlap between ballroom dancing fans and sports fans? I'm thinking nah. My theory is that they have to include one each season so that Midwestern housewives can use them as bait to convince their husbands to watch with them. "I'm not watching that silly reality show with you." "But honey, look, Joe Namath is on! And I'll make those pigs in a blanket you love so much." "Ah, fine. But I'm not gonna like it." And, scene.
Back to the juicy bits. Noted author, talk show host, and Slutwalker Amber Rose (no relation) who has previous dancing experience, stands a pretty fair shot at the mirror ball trophy. Grammy Award winner Babyface, whose name is still accurate at age 57, should be fun to watch. Taxi star Marilu Henner's hyperthymesia might come in handy when it comes to memorizing choreography. And if Marcia Brady herself, Maureen McCormick, doesn't do an "Oh, my nose" parody dance, I will burn everything down. Come on, Maureen. If Elizabeth Berkley can parody Jessie Spano's drug-fueled "I'm so excited" breakdown, you can get hit with a football one more time.
Rounding out the cast is '90s icon and one-time accused burglar Vanilla Ice, who... well, he's danced before. So that should be fun. And now for my absolute favorite contestant: former Texas Gov. Rick Perry, who less than a year ago was running for president. This dude thought he could take on Hillary Clinton, and now he's just hoping to beat out a kid who used to be on Wizards of Waverly Place. Oh, what a time to be alive! Dancing With The Stars casting director, please don't ever change. Your choices make very little sense, and I love that about you.