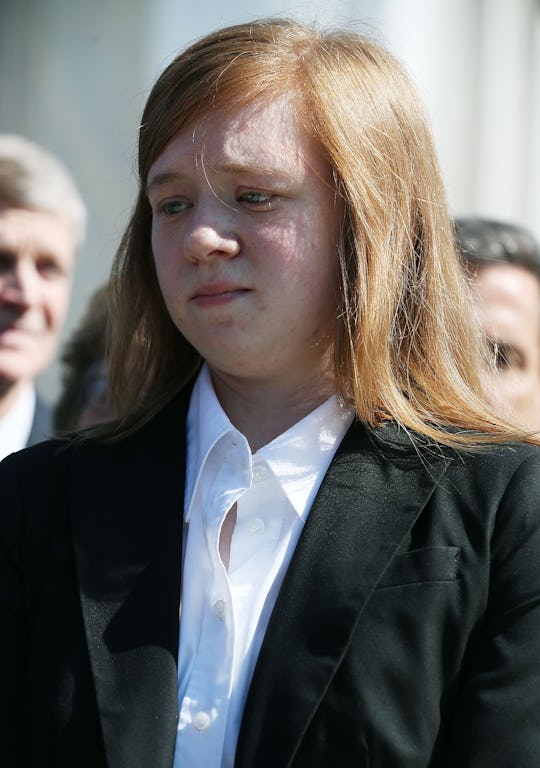 Mark Wilson/Getty Images News/Getty Images
Why Abigail Fisher Lost Her Supreme Court Battle, & What The Decision Really Means
Abigail Fisher has been fighting her way through the United States judicial system for seven years. She has appeared twice before the Supreme Court of the United States at just 25 years old. Fisher has been in this exhaustive battle with the University of Texas at Austin after she was denied from the university that she had been hoping to attend for years. Which is tough, sure. We all get that. But there is a very good reason why Abigail Fisher lost her Supreme Court battle over affirmative action and legacy privileges.
The Supreme Court made a 4-3 decision on Thursday to uphold an earlier ruling to allow the University of Texas to consider race when going through the process of admitting students. Fisher was the challenger in Fisher v. University of Texas. She contended that she had been denied access to the University because of her race (Fisher is white).
The decision to uphold the earlier ruling is considered momentous for the affirmative action movement, with President Obama voicing his approval to reporters at the White House. "I'm pleased that the Supreme Court upheld the basic notion that diversity is an important value in our society," he said in a statement on Thursday. "We are not a country that guarantees equal outcomes, but we do strive to provide an equal shot to everybody."
So what about Fisher's equal shot? Was she denied admission to the University of Texas because she was white? According to a report by Nikole Hannah-Jones for ProPublica, it looks like it was poor academic standing that kept Fisher from the University's hallowed halls. In 2013, Hannah-Jones investigated Fisher's alleged claim that she had worked hard, gotten good grades, filled her calendar with extracurricular activities only to become a victim of affirmative action. The Sugar Land, Texas native dreamt only of following in the family footsteps to the University of Texas, according to a YouTube video posted by Edward Blum.
"There were people in my class with lower grades who weren't in all the activities I was in, who were being accepted into UT, and the only other difference between us was the color of our skin. I was taught from the time I was a little girl that any kind of discrimination was wrong. And for an institution of higher learning to act this way makes no sense to me. What kind of example does it set for others?"
Unfortunately, Fisher's grade point average of 3.59 and SAT scores of 1180 out of 1600 were simply not high enough to rate automatic preference or academic entrance. And of the students with lower grades who did manage to get admitted in 2008 (the year Fisher applied), only five students were black or Latino. The remaining 42 were white.
The Supreme Court's ruling has left the door open for universities to embrace diversity. For them to consider a multitude of factors (including grades, personal achievements, socio-economic concerns and yes, even race) when considering applicants. As Justice Anthony Kennedy wrote in his decision to uphold the ruling (the first time the conservative Kennedy has ever voted to uphold a race-conscious case in over 30 years),
Considerable deference is owed to a university in defining those intangible characteristics, like student body diversity, that are central to its identity and educational mission.
Abigail Fisher may not have been a terrible student — she may have been a high-achieving, talented student who volunteered to do extracurriculars and filled her off-hours with plenty of positive activities. Unfortunately, her grades were reportedly not high enough, it seems, to warrant an automatic pass into the school. And for that, the University — and Supreme Court — were in the right.
Today feels like a good day to celebrate diversity.