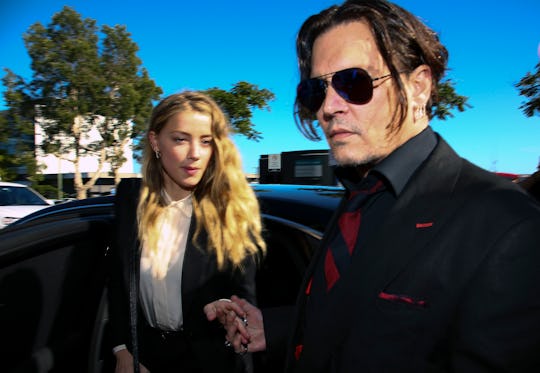 PATRICK HAMILTON/AFP/Getty Images
Why Amber Heard's Domestic Violence Arrest Doesn't Change Her Claims Against Johnny Depp
On Tuesday, TMZ reported that 30-year-old actress Amber Heard had been arrested for allegations of domestic violence she reportedly committed against her girlfriend in 2009. According to that report, Heard and then-girlfriend Tasya Van Ree got into an argument at the Seattle-Tacoma International Airport and Heard allegedly struck and grabbed Van Ree's arm, which led to her arrest. If it seems odd that Amber Heard's domestic violence arrest from seven years ago is just now resurfacing, remember that Heard made headlines late last month when she came forward with allegations of domestic violence at the hands of her estranged husband, Johnny Depp. And some fans online are using Heard's domestic violence arrest as reason to dismiss her allegations against Depp. But really, what bearing would a 2009 incident with her ex have on what may or may not have happened between Heard and Depp? The answer is simple: nothing. One has nothing to do with the other. Depp's attorney has not responded to Romper's request for comment.
First, here are a few more details on what happened in 2009 between Heard and Van Ree. According to TMZ, the incident between Heard and Van Ree landed Heard in court the next day, facing misdemeanor domestic violence charges. TMZ reported that the prosecutor in the case decided not to pursue the case because both women lived in the state of California at the time. Heard was reportedly let off with a warning following the incident. The full audio of the court hearing in Heard's case has been posted on TMZ.
Late last month, a judge granted Heard a domestic violence restraining order against Depp after she appeared in court with bruising on her face, the Los Angeles Times reported. The Pirates of the Caribbean star was ordered to stay at least 100 yards away from Heard, who filed for divorce earlier that same week.
When Heard came forward late last month with allegations that she had been the victim of domestic violence by her husband, some fans and friends of the actor were in disbelief. Several celebrities came forward to defend Depp and question Heard's motives, despite having no actual evidence to refute Heard's claims.
This latest news of Heard's past is part of an awful pattern that happens too often in domestic violence cases: once a woman comes forward with claims of violence — and especially, it seems, when the alleged perpetrator is someone well known, well loved, or with the potential to become either — logic seems to go out the window. Instead, people spend time picking apart the veracity of the victim's claims, or questioning whether the woman is out for some financial or social gain. Then, people talk about the threat of the woman's claims to the man's future or reputation.
But all that does is make it more difficult for other survivors to come forward. Every woman that gets picked apart online and in the press is a horror story that could stop others from finding the courage to report abuse.
So, Heard was arrested for a misdemeanor count of domestic violence in 2009. And she found herself in court again, seven years later, asking for a restraining order in another domestic violence case. Honestly, that one incident doesn't prove or disprove the facts in the other should go without saying. But I'll say it again: one incident has absolutely zero bearing on the other. None.
All the two cases tell us, placed side-by-side as they have been this week, is that abuse happens more than anyone cares to think. And that all victims deserve to be heard and protected.