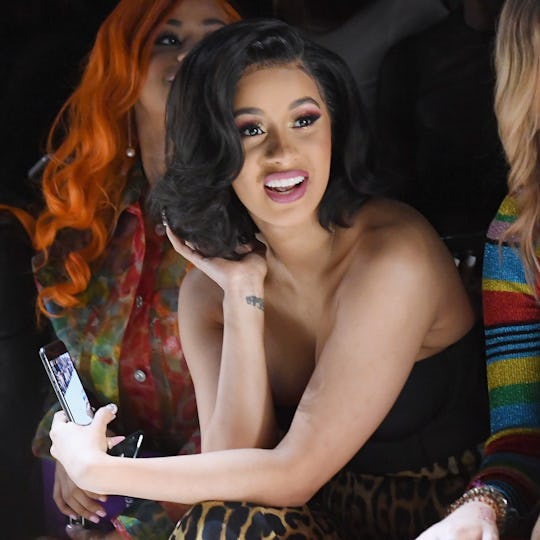 Nicholas Hunt/Getty Images Entertainment/Getty Images
Why Are Cardi B & Nicki Minaj Feuding? Their Fight Ended In A Confrontation
Nicki Minaj and Cardi B have never exactly been the best of friends, apparently. The two rappers don't just suffer from one of those fan-induced rivalries that I really don't love, the kind that pits powerful women against each other instead of supporting each other. But it seems that the two have their own personal issues as well... and those issues came to a head on Friday night. After the two ended up in a massive fight at New York Fashion Week, fans are wondering why Cardi B and Nicki Minaj are feuding on this level. And of course the answers are never easy.
The two women were attending the Harper's Bazaar Icons party at the Plaza Hotel in New York City on Friday night when the incident happened. Partygoers who were there at the time told People that it appeared as though Cardi B lunged at Minaj, although videos posted on social media don't make it clear whether or not Minaj was definitively the woman in question. Cardi B seems to be saying in one of the videos, "say some s**t about my daughter again!" before a fight breaks out. There have also been reports that the "Bodak Yellow" singer threw her shoe at Minaj, but that has not been confirmed. After the reported fight was broken up by security, Cardi B was seen leaving barefoot with a huge bump on her forehead.
Romper has reached out to reps for both Nicki Minaj and Cardi B and is awaiting a reply.
So why did the fight break out? According to Cardi B's Instagram account of the event, the feud has been brewing for some time but came to a head when Minaj (although she never uses her name, to be clear) allegedly had negative things to say about her daughter. Cardi B gave birth to daughter Kulture Kiari with husband, Migos rapper Offset, on July 11.
As Cardi B wrote on Instagram in the early hours of Saturday morning, still clearly upset about the incident:
i've let a lot of s**t slide! i let you sneak diss me, i let you lie on me, i let you attempt to stop my bags, f**k up the way that i eat! You've threaten other artists in the industry, told them if they work with me you'll stop f**king with them!! i let you talk big s**t about me!! I addressed you once in person, I addressed you a second time in person, and every time you copped the plea!! But when you mention my child, when you choose to like comments about my ability to take care of my daughter, all bets are f**kin off!! I've worked too hard and come too far to let anyone f**k with my success!!!! Bitches talk all that s**t in they raps but in real life they p**sy!! This s**t really is for entertainment!!
If Minaj did happen to say something negative about Cardi B's daughter, all moms would probably agree that would be the last straw. But here's what's seriously sad about this entire situation; both Minaj and Cardi B have denied rumors of their squabble in the past, even taking time to have a nice chat at this year's Met Gala.
They both performed on the Migos song "Motorsport" in 2017 as well, although that appears to be where the rumored rap beef began. Since then, however, the entire situation appears to have largely been fueled by fan speculation, although both women have hinted at issues in the past. Between the speculation and the culture of competition and the subtle disses here and there, it seems the feud was bound to come to a head.
Which is seriously unfortunate because let's face it; wouldn't everyone rather the two just collaborate and celebrate each other instead?