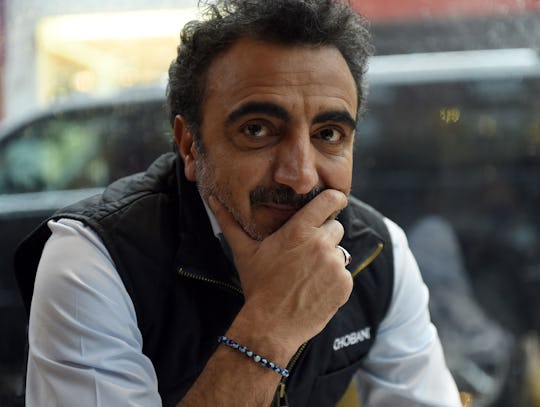 DON EMMERT/AFP/Getty Images
Why Are People Boycotting Chobani? Its Founder Was Threatened For Doing The Right Thing
As one billionaire employs his considerable wealth and business acumen to improve the lives of refugees in the United States, fans of another are unabashedly spreading lies and vitriol to obstruct that effort. That's right, many Donald Trump supporters are actually calling for a boycott of Chobani Greek yogurt because the company's founder has a propensity for hiring migrants and spearheading initiatives to fully integrate them into American life, where they can contribute meaningfully to the country they now call home. Hamdi Ulukaya is a Turkish immigrant of Kurdish descent, a self-made billionaire, and an innovative, vocal advocate for those fleeing countries like Iraq and Afghanistan — and he's totally undeterred by the death threats and hate the far-right has flung at him for it.
At the helm of propagating blatant falsehoods about the 2,000-employee company whose CEO has had the audacity to hire 300 refugees to work in his two plants in upstate New York and Idaho, as The New York Times reported, is the alt-right site Breitbart News. In August, the same month that the site's executive chairman, Stephen Bannon, officially joined the Trump campaign as its CEO, the site ran of series of articles attacking the company. The unsubstantiated reports include a piece that falsely linked the opening of the Twin Falls, Idaho, plant with a spike in tuberculosis cases in the area, and another that blamed the company's friendliness toward refugees for two sexual assaults there.
And right after Ulukaya called on other corporations to help refugees at the World Economic Forum in Davos, Switzerland, in January, a fringe website called World Net Daily published a story called "American Yogurt Tycoon Vows to Choke U.S. With Muslims," according to Salon. The piece is still live, and although the title has since been changed to one that's more benign, the content is still overtly xenophobic.
But, as The Times reported, the onslaught of negativity aimed at Chobani because of Ulukaya's commitment to refugees (he also started a personal foundation, Tent, to encourage other organizations to employ refugees, and allocates most of his fortune to this type of work, according to NBC News), didn't stop at unwarranted attacks on the company. Ulukaya and even the mayor of Twin Falls, have been the targets of deaths threats — and have been enmeshed in far-fetched conspiracy theories, as well.
"It got woven into a narrative that it's all a cover-up, that we're all trying to keep the refugees safe so that Chobani has its work force, that I personally am getting money from the Obama administration to help Chobani hire whoever they want, that it's part of this Islamification of the United States," Twin Falls mayor Shawn Baringer told David Gelles of The Times. "It's crazy."
It's no surprise that many of the same people who are ardently supporting a candidate who at one point during his campaign called for a total ban on Muslim immigration into this country would reject Chobani for its equitable hiring practices. A Business Insider analysis of the #BoycottChobani hashtag showed that many using it are also Trump supporters. And a quick perusal of Twitter indicates that, yeah, that's probably true:
Clearly, Ulukaya is content to let the haters hate, because he's way too busy trying to elevate the world he lives in for all people. Recently, he announced that each of his full-time employees would receive shares of up to 10 percent of the company's value if and when it goes public or is sold. Just a few months later, in October, he implemented a policy that grants both new moms and new dads six weeks of fully paid parental leave.
This is a man who's above politics, above personal attacks lobbed at him, and who's dedicated to uplifting those who could use a boost as they start out in a new country. Excuse me, I've gotta go stock up on some limited batch caramel apple Chobani.