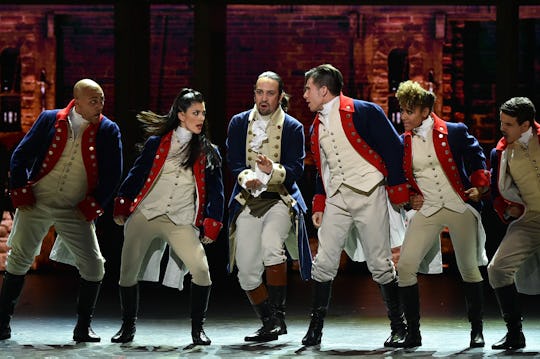 Theo Wargo/Getty Images Entertainment/Getty Images
Why Are People Boycotting 'Hamilton'? An Important Political Message Has Upset Many
After a cast member from Hamilton lectured Vice President-elect Mike Pence about equality, Twitter users started calling on others to boycott the hit Broadway musical. On Saturday afternoon the hashtag #BoycottHamilton began trending on social media, perhaps leaving some scratching their heads and asking the question: Why are people boycotting Hamilton? Supporters of the new Republican administration are not happy that the cast used the opportunity of having Pence in the audience to make a statement, urging Pence and President-elect Donald Trump to work on behalf of all Americans.
Trump was especially unhappy with the unscripted lines the Hamilton cast had for his right-hand man, posting on Twitter that Pence had been "harassed" and demanded that they apologize after the vice president-elect — who once signed a archaic anti-LGBTQ "religious freedom" bill into law — was greeted with a mix of claps and boos from the audience as one member of the cast directed an important message to Pence that the "diverse America" are "alarmed and anxious" that the new Republican administration won't protect all citizens.
"The Theater must always be a safe and special place," Trump wrote on Twitter on Saturday morning. "The cast of Hamilton was very rude last night to a very good man, Mike Pence. Apologize!"
As Pence was on his way out of the auditorium, Brandon Dixon — who portrays Aaron Burr in the musical — called on the vice president-elect to come back, thanked him for coming in, and asked the audience not to boo. But, he also used the rare opportunity to make this powerful statement:
Vice President-elect Pence, we welcome you and we truly thank you for joining us here at Hamilton: An American Musical. We really do. We, sir, we are the diverse America who are alarmed and anxious that your new administration will not protect us, our planet, our children, our parents or defend us and uphold our inalienable rights, sir. But we truly hope this show has inspired you to uphold our American values and work on behalf of all of us. All of us.
While some on Twitter thought the statement and audience's reception was rude and disrespectful (one called it a "liberal hate stunt"), many more pointed out that a Hamilton boycott is actually kind of ridiculous:
Pence and Trump's prior work and statements made throughout the presidential campaign provides a scary insight into what the new administration represents and who will benefit and who will not. The cast's message on inclusion provided another platform to get out a message for the many people who are worried for themselves or for the people they love, but it wasn't exactly welcomed with an open mind as Pence simply walked out. And that, as well as the #BoycottHamilton trend, shows us again just how divided the nation is on so many important issues.