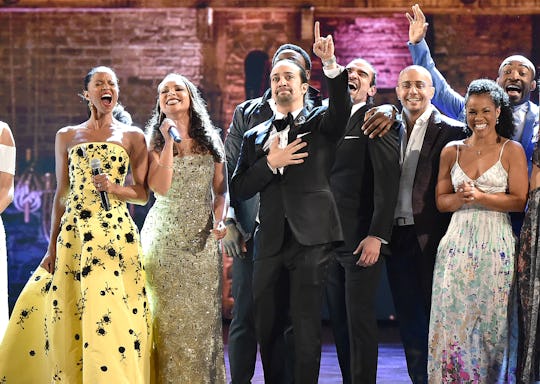 Theo Wargo/Getty Images Entertainment/Getty Images
Why 'Hamilton's Message To Mike Pence Was So Important
Audience participation is a beautiful thing. Unless, of course, you are vice-president elect Mike Pence. Then audience participation can be crazy awkward. When Pence saw Hamilton, the cast had a message for him. And when the cast of the biggest Broadway musical on the planet wants to talk to you at the end of their show... I sort of feel like you should listen and listen good.
Vice-president elect Pence was catching the show in New York on Friday, and his reception by the audience wasn't exactly welcoming. He was greeted with boos and jeers from the audience who were probably there hoping to enjoy a night off from the exhausting, unpleasant drama that was the 2016 presidential election. Imagine you finally (finally!) score Hamilton tickets, think you're going to have a few hours off from worrying about the new president-elect Donald Trump, about his new administration and all that it might mean for your country; and in walks his vice-president elect. A man who once signed a blatantly anti-LGBTQ "religious freedom" law in his home state of Indiana, who wanted to cut funding for AIDS research, and continues to believe in "rehabilitating" the gay out of people through therapy programs.
The Hamilton cast clearly didn't want to give up this important opportunity to make sure their voices were heard. As Pence began to leave, they called him back. They thanked him for coming (show folk are nothing if not polite), asked the audience not to boo, and Brandon Dixon, who plays Aaron Burr in the musical, had this to say to Pence:
Vice President-elect Pence, we welcome you and we truly thank you for joining us here at 'Hamilton: An American Musical.' We really do. We, sir, we are the diverse America who are alarmed and anxious that your new administration will not protect us, our planet, our children, our parents or defend us and uphold our inalienable rights, sir. But we truly hope this show has inspired you to uphold our American values and work on behalf of all of us. All of us. Thank you.
It was an important message, and especially significant given the fact that not only is the current star of Hamilton, Javier Munoz, openly gay and HIV-positive, but the show is based on the story of one of the founding fathers of the United States. The Trump administration's platform to "Make America Great Again" has been criticized for excluding any American who does not fit into a certain mold. President-elect Trump himself has had a history of racist, sexist, and xenophobic comments, while vice president-elect Pence has a reputation for being homophobic. What sort of Americans do they plan to make America great again for, exactly? Apparently not theater folk. When Trump got wind of the cast of Hamilton's inspiring message, he decided to give them a lesson on theater decorum. On account of he knows all about manners, I suppose.
Pence walked out as the cast delivered their message. Their message of inclusion, of hope for the future, of worry for the people they love and care about. He simply walked out. And that, more than anything, tells you everything you need to know about this new administration.