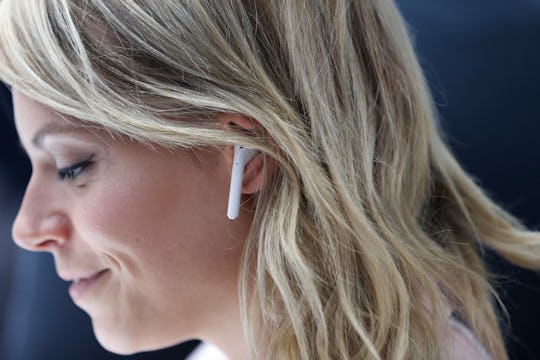 Stephen Lam/Getty Images News/Getty Images
Why Are The Apple AirPods Delayed? Everyone Wants To Know When They're Arriving
If you have been freaking out about having to use the new Apple AirPods that will be necessary with the new iPhone 7, you can chill out. For now at least, the Apple AirPods are delayed since the company has said that it just isn't ready for the public yet. Apple said in a statement to CNN Money on Wednesday that "the early response to AirPods has been incredible" but that they "[didn't] believe in shipping a product before it's ready." "... We need a little more time before AirPods are ready for our customers," the company wrote.
Let's all just cross our arms at Apple, tilt our heads and say, "OK, if you say so," in unison, because the initial response to the wireless earbuds was "incredible," to be sure. But, at least on social media, people seemed to also be incredibly worried about how the they would manage to use the wireless earbuds at all, since the earbuds seemed, well, really small and just made to be lost in pockets, purses, or on sidewalks on really windy days (this was my own personal fear).
Still, the more organized and forward thinking people among us were happily anticipating the "late October" release of the $150 wireless headphones, so they're probably a little bummed this week. As of this moment, there is no official release date yet. The website still says "late October." But Apple would really, really have to crunch for time to make that happen, so it's a good bet that we might not see the AirPods on shelves until later this year.
It's probably a good move, considering that if Apple released the controversial product before it was absolutely perfect, it would have a bigger branding problem on its hands (remember those Samsung batteries?). Already on social media, Apple fans and haters are reacting to the news in the official language of Twitter: snark.
One user wrote, "even apple lost the air pods already," which is probably the funniest thing you'll hear until after Election Day. Another user, a beta tester, was right there with the tech giant, tweeting, "I've been trying AirPods for a month. They're buggy. I like them. I choose them over wired EarPods. Sometimes audio hiccups when moving." Other customers were wondering why Apple doesn't do this kind of thing more often (ahem, MacBook chargers, we're looking at you).
Let's give the company the benefit of the doubt though. According to TechCrunch, the AirPods aren't just for the iPhone 7 but also other devices, so there are tons of software glitches to work to make them compatible and work every single time one wants to listen to tunes from their devices on the go. It's complicated work.
So don't sweat it too much — the AirPods are definitely in the works. Just take this time to enjoy your wired earbuds while you can.