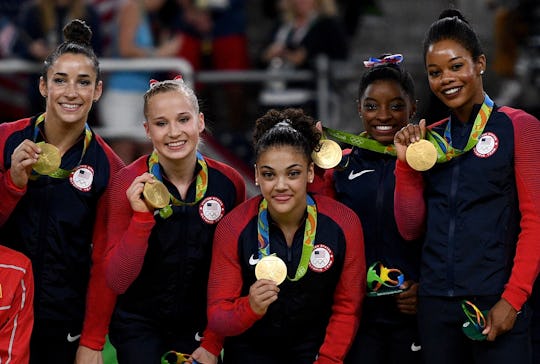 David Ramos/Getty Images Sport/Getty Images
Why Aren't Simone Biles & Aly Raisman Wearing The Same Leotard? It's Not A Requirement
The U.S. Women's Gymnastics team is officially tearing it up at the 2016 Rio Olympics. They are racking up medals, and what's more, they're doing it in style. Think sparkly leotards and off-the-hook makeup while contorting their bodies; amazing (still not as amazing as their skills, of course, but still). Of course, some may be wondering why Simone Biles and Aly Raisman aren't wearing the same leotard at the Individual All-Around competition, despite both being representatives of team USA. A streak of individuality for the team players, perhaps?
Each of the five team members (Simone Biles, Aly Raisman, Gabrielle Douglas, Madison Kocian, and Laurie Hernandez) of the U.S. Women's Gymnastics team gets a whopping 20 leotards for the Games. Team coordinator Martha Karolyi chooses the leotards the competitors will use for each of their events. Karolyi, who will retire after the Rio Olympics after 16 years as team coordinator of Team USA, chose highly patriotic leotards for the gymnasts. Karolyi may have chosen unique leotards for Biles and Raisman at the Individual All-Around competition to make sure they felt... well, individual. Raisman wore a cherry red leotard, while Biles stunned in the red, white, and blue. Their leotards were gorgeous, not to mention pricey: each of their leotards is encrusted with thousands of Swarovski crystals and, if they were available for retail, would be worth a whopping 1,200 dollars (which means that the gold medals Team USA will be bringing home are actually worth less than just one of their leotards).
Kelly McKeown, executive vice president for design and corporate relations at GK Elite, the company that designs and creates Team USA's amazing leotards, told The New York Times,
"It's difficult for me to imagine how we could get more crystals on; we may have hit peak crystal."
Peak crystal, indeed. After all, the gymnasts are already working their bodies in ways most of us regular humans could never imagine. And now they have to do it covered with crystals: don't get me wrong, they look amazing. But are the crystals really necessary? According to Samantha Peszek, a member of the 2008 Olympic team... sort of. Peszek told The New York Times,
Obviously, sparkles are not an element in the scoring. But it's part of the 'look good, feel good, do good' aspect. It's a very important part of the sport. It may sound trivial, but what you wear really matters. For some girls, it's why they got into the sport.
Considering the success of the U.S. Women's Gymnastics team in Rio so far (they already have one gold medal in their pockets, and are odds-on favorite at the All-Around Individual competition on Thursday), I think it's safe to say the crystals aren't hurting their chances.