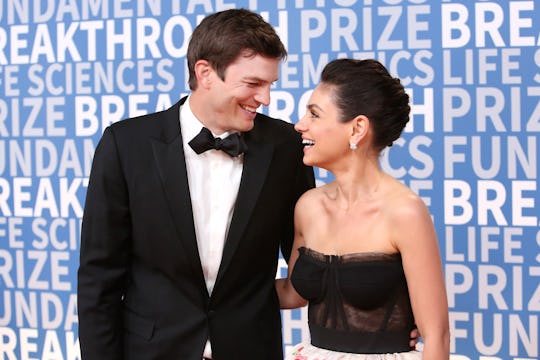 Jesse Grant/Getty Images Entertainment/Getty Images
Ashton Kutcher Explains Why He & Mila Kunis Won't Be Leaving Their Fortunes To Their Kids
I've always secretly believed that there's only one thing better than being super rich, and that's being born into a family of people who are super rich. Because that way, you don't have to do any of the work and you can just bathe in chocolate and eat gold-crusted steaks for lunch, or whatever it is that wealthy people do. Sadly, my eyes have just been opened to a harsh reality: just because you're born into a wealthy family doesn't mean you're inheriting money, apparently. I mean, Ashton Kutcher and Mila Kunis' kids won't inherit their money, so other than the love and affection and all that jazz, where's the benefit, right?
The couple, who got married in 2015, are reportedly not leaving money in trusts for their two kids, 3-year-old daughter Wyatt and 1-year-old son Dimitri. As Fatherly reported, during a recent appearance on his friend Dax Shepard's podcast Armchair Expert, Kutcher opened up about his plans to "leave his money to charity" instead of leaving his money (or wife Kunis') to his children. I mean, I hope they have plenty of time before they have to worry about such things, but the 40-year-old actor from The Ranch seemed pretty firm about his plans.
Kutcher told Shepard, "I'm not setting up a trust for them. We'll end up giving our money away to charity and to various things."
It seems both he and Bad Moms' actress Kunis are concerned over the possibility that their kids could grow up feeling spoiled and entitled, because they already live "a really privileged life and they don't even know it."
It's true, of course; Kutcher was in the news recently for extolling the virtues of an $1,100 "robo-crib" that helped lull baby Dimitri to sleep and allow the parents to get a little shut-eye themselves.
Now before you go worrying that little Wyatt and Dimitri will some day have to shill on the streets to make money, Kutcher plans to help his kids in a more proactive way than simply handing them money and hoping for the best. Extra reported that he told Shepard:
If my kids want to start a business and they have a good business plan, I'll invest in it, but they're not getting trusts. So hopefully they'll be motivated to have what they had or some version of what they had.
Kutcher and Kunis are by no means the only set of wealthy, successful parents to decided not to leave their money to their children in an effort to foster independence. Billionaires like Bill and Melinda Gates, Mark Zuckerberg and Priscilla Chen, Warren Buffett, and Michael Bloomberg have all been open about their plans to leave the vast majority of their fortunes to charity rather than their children. As Buffett told Fortune in 1986, he wanted to leave his children "enough money so that they would feel they could do anything, but not so much that they could do nothing.''
Don't worry about these kids though, guys; each of these wealthy entrepreneurs plans to leave their children perfectly comfortable. In Buffett's case, he plans to leave each of his children $2 billion, rather than the bulk of his estimated $55 billion estate.
Kunis told Entertainment Tonight in 2017 that there's one particular concern driving her need to avoid spoiling her kids:
Yeah, we're not gonna raise a**holes. There's enough a**holes in this world! We don't need to contribute.
I mean, when you put it that way... sure. It seems like Kutcher and Kunis have gotten parenting figured out. And now that I give it some thought, I guess it would be sort of strange to just have all of that money handed to you when you didn't do anything to earn it, right? Although I'm happy to give it a whirl just to check.