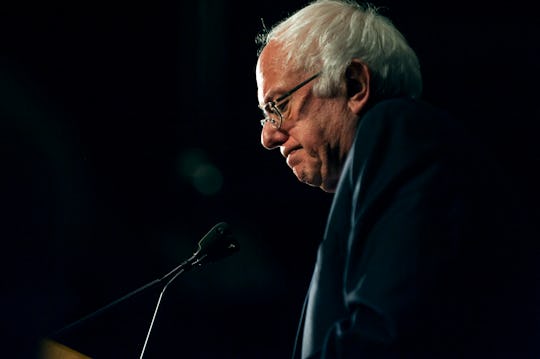 Stephen Maturen/Getty Images News/Getty Images
Why Bernie Sanders' Super Tuesday Speech In Vermont Sounds Like A Concession
When Sen. Bernie Sanders took the stage after winning Vermont on Super Tuesday, he was greeted with rousing chants of "Feel The Bern" from his dedicated fanbase. But, though Sanders was hardly lacking in enthusiasm addressing voters Tuesday, things didn't seem to be bern-ing as hot for the candidate. (Sorry.) Because Sanders' Super Tuesday speech might have hinted at a decidedly cool future for the Vermont senator.
Already, going into Tuesday, Sanders' competition, Hillary Clinton, had the momentum. Weeks after the candidate picked up a campaign win (with a slight loss) in Iowa, Clinton was polling high in Super Tuesday states ahead of the vote. And that traction clearly affected Sanders, who, as NPR noted, changed his tune while speaking in Oklahoma City ahead of the vote. As NPR writes about his speech in the Midwest:
In Oklahoma City, Sanders ended his stump speech as he usually does: with a call for political revolution. "On Tuesday, Oklahoma can play a very important role in moving this country forward toward a political revolution," he told the crowd. "Let's do it."
It was a slightly different line for Sanders, who in previous speeches seemed to imply that that political revolution had already begun. Perhaps the candidate, in a small way, was tempering expectations.
And that rhetoric only continued into Super Tuesday.
Addressing his home state of Vermont following his Super Tuesday win, Sanders told the audience, in the perhaps most quotable quote, "This campaign is not just about electing a president. It is about making a political revolution."
Hm. Consider two parts of that sentence. First of all, as NPR noted during his speech in Oklahoma City, Sanders is referencing a future revolution; not one that has already begun in a huge way. And then there's the first part of that sentence — if his campaign isn't about electing a president, does that mean Sanders doesn't expect to be elected president?
At least, that's the way some are taking Sanders' speech.
It's true — Sanders' Super Tuesday speech in Vermont was lacking the promise of his previous speeches. Sure, he called out Clinton, and called out the 1 percent, but he also essentially reiterated his campaign platform. Of course, the fact that Clinton picked up several states by the time Sanders hit the stage (compared to Sanders' lonely Vermont), could mean that the candidate wasn't in the mood to unleash celebratory rhetoric.
But fans of the Senator think things are hardly dire. Instead, perhaps Sanders was acknowledging the difficult day, but reiterating that his platform, despite the losses, remains the same — and it's a platform that has hardly lost any fans.
Because, though things might not be burning for Bernie on Tuesday, voters are still most definitely feeling him.