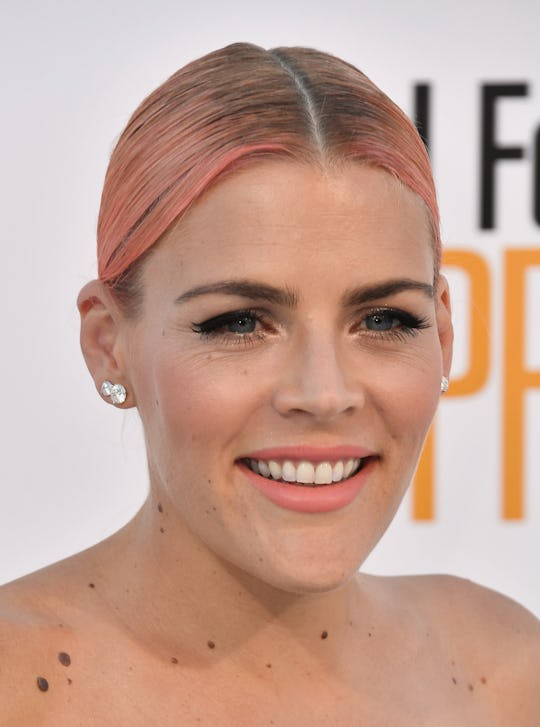 Frazer Harrison/Getty Images Entertainment/Getty Images
Why Busy Philipps Doesn't Limit Her Daughters' Screen Time Will Bring Comfort To All Parents
I know how to nap, sitting up on the couch, while pretending to watch a kids' movie through my fingers. The trick is this: rest your forehead against your palm, but sort of curl your fingers like bangs over your eyes. I had to hide my napping because, for reasons I have never understood, nothing angers a child more than a sleeping adult. This is why I love screen time, it's the ultimate distraction to catch a cat nap. So when Busy Philipps said she doesn't limit her daughters' screen time, I was like, of course not. How else would you ever get five minutes to yourself?
I'm exaggerating. Maybe. But it's true about Busy Philipps. The actress you probably recognize from Cougar Town, I Feel Pretty, and of course Dawson's Creek has made a name for herself recently as a super real Instagram mom. She has two little girls, 9-year-old Birdie Leigh and 4-year old Cricket Pearl, with screenwriter husband Marc Silverstein, and they are incredibly adorable. So much so that Busy Philipps' Instagram feed has impressive followers like Julia Roberts and Miley Cyrus approaching her to tell her how they are apparently glued to her social media, as she told People.
During a Mother's Day themed Q&A session for People, Philipps was answering other people's "mom-ing" questions. And one of those questions brought up the frequently touchy subject of screen time. A mom wrote in to Philipps, asking:
I say "yes" to my kid every time he asks to watch The Wiggles. Will he never learn to read?
Philipps response was perfect:
What? No! I don't limit screen time and my daughters are brilliant.
See? Problem solved.
It's always tough to make these decisions about your kids, I know. Especially when you're getting so much information (usually fed to you via some form of a screen) about how much screen time is the "right" amount for your kids. The American Academy of Pediatrics set out guidelines back in 2016 for the recommended amount of screen time per day for each age group, and I have to say it doesn't seem super realistic to me. The AAP recommends kids between 2 and 5 are limited to one hour of screen time per day. One has to wonder what exactly the AAP thinks you're meant to do to entertain a preschooler for the other 23 hours a day.
In a perfect world, we would all be able to spend our days frolicking in the sunshine with our toddlers. But this world isn't perfect. Moms and dads get tired, the sort of tired they probably didn't know existed until they had kids. They get worn down by the demands, by the repetition, by not being allowed to shower or use the washroom. And so they turn to screens. Busy Philipps doesn't think it's such a terrible thing, and her kids do seem pretty together, if you ask me.
Philipps had some other great feedback for moms who sent in their questions, like the mom who was upset about her daughter being obsessed with dressing like a princess and worried about the "long term consequences" this might have, but is simply "too tired" to fight about it. Philipps responded, according to People, by saying:
I think it's all about balance. Princesses are amazing and empowering women who can achieve anything, and introduce her to Princess Kate and Meghan Markle, who I'm obsessed with.
The underlying theme of the questions posted to Busy Philipps seemed to be about asking permission to just let parenting happen. From parents who were too tired to fight. So if a little extra screen time might help parents recharge and take a break, it sort of looks like a win-win to me.
Check out Romper's new video series, Bearing The Motherload, where disagreeing parents from different sides of an issue sit down with a mediator and talk about how to support (and not judge) each other's parenting perspectives. New episodes air Mondays on Facebook.