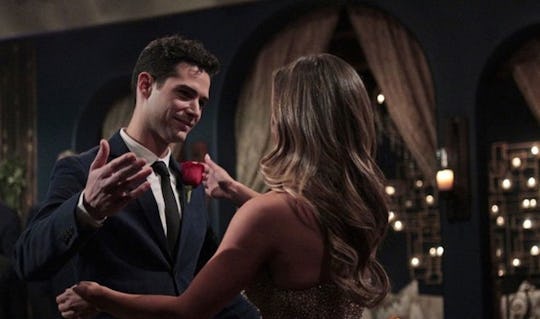 Rick Rowell/ABC
Here's Why Wells Can't Take Part In 'Bachelor In Paradise' Dating
I don't know about you, but my favorite time of year is when Bachelor in Paradise airs and I get to watch all of my favorite rejected suitors (and suitresses?) try to find love amongst themselves on a Mexican resort. But one of my absolute favorites is somehow out of the running this season. I'm referring, of course, to Wells Adams. So why can't Wells date on Bachelor in Paradise? He came back to the series as the bartender, and apparently Playa Escondida has very strict fraternization policies for its staff.
The show's usual bartender, Jorge, apparently had to leave to pursue his own business. So rather than bring on a new, faceless bartender that nobody knew or cared about, ABC decided to bring on Wells. I have no idea whether Wells has any actual bartending experience. What I do know is that in a sea of rippling pectorals, Wells was the funny, puppy-loving DJ from Nashville that I always felt like I could probably have a genuine conversation with. And then, of course, he would fall madly in love with me and, well, you know the rest. But apparently as a bartender Wells does not go on dates, and will presumably not be finding love in Paradise, much to my disappointment.
So far on the show, Wells has poured some people some drinks and given fellow-lovable-possibly-too-good-for-this-show cast member Kristina a hug after her less than productive heart-to-heart with Dean, who admitted he's not really sure why he's there. Personally, I think Wells and Kristina would make a great couple. She's from Russia by way of Kentucky, and he is completely adorable. So why can't they just get a date card and go out with each other?
Honestly, who knows what the rest of the show will bring. The Bachelor and all of its offshoots are known for mixing up the rules somewhat, in an attempt either to make sure everyone has a real chance at love or sometimes just to stir up some drama. So while at the moment it looks like Wells is just there to offer some friendly advice and make sure everybody gets a margarita when they need one, it is not out of the realm of possibility that Wells will actually go on a date or two later in the series. (Though Chris Harrison insists that won't be happening for him.)
After all, ABC has been showing that clip of him with the puppets in a one-on-one interview incessantly. If he's being interviewed one-on-one by producers, perhaps that means that he's about to get a little more screen-time. Or perhaps they're gearing him up to be the next Bachelor and wants to guarantee no one will swoop in and steal his heart. Hey, a girl can dream.