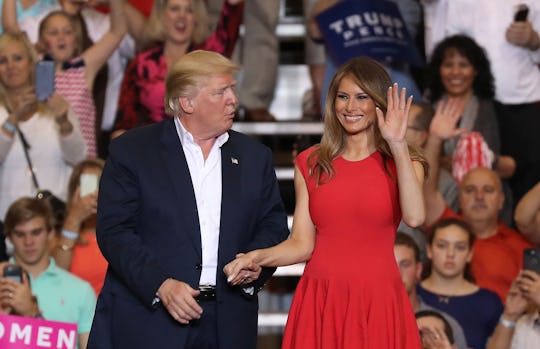 Joe Raedle/Getty Images News/Getty Images
Criticizing Melania For Costing Taxpayers Is Totally OK
Fifty-four billion dollars. That's how much President Donald Trump has proposed in cuts to federal departments and programs in order to boost defense spending. If Trump had his way, crucial programs like Meals on Wheels and the National Endowment for the Arts would be eliminated so that his border wall could be built. In the meantime, the government is forking over hundreds of thousands of dollars a day to protect Melania Trump and her son Barron while they live in New York City. And that's why criticizing Melania Trump for costing taxpayers more money is totally valid.
According to CBS News, the New York City Police Department has estimated that it would cost between $127,000 and $146,000 a day in taxpayer money to guard the first lady and the youngest Trump at Trump Tower, the president's skyscraper home on Fifth Avenue in Midtown Manhattan. All told, the city would spend upward of $86 million by the time the Trumps move out of Trump Tower and down to Washington, D.C., by the start of the summer, according to the NYPD.
That's on top of the what New York City already spent between Election Day and Inauguration Day to provide security for the Trump family — about $24 million to be exact, according to Fortune. Not to mention the money used to fund the president's routine weekend trips to Mar-a-Lago in Florida, which NBC News reported may run taxpayers $3 million for each visit. Yet, Trump can't find it in his budget to protect programs and agencies that have provided even his supporters with food, security, education, and safety for decades.
Taxpayers in the United States have had enough of the hypocrisy in the White House. So much so that, on March 18, a Change.org petition was started to protest the costs of providing Melania with security. The petition, which would be delivered to Massachusetts Sen. Elizabeth Warren and Vermont Sen. Bernie Sanders, also demands the first lady and her son move to the country's capitol, otherwise pay the expenses for her security detail out of pocket and without taxpayer help, according amNewYork.
The petition hoped to reach 150,000 signatures when it was first published online earlier this month. It has surpassed 200,000 signatures as of Wednesday.
Melania Trump has every right to put her son, Barron, before anyone else. As a parent, I understand wanting to make sure your child has a smooth transition during a massive life change. But that parental instinct shouldn't come at a cost to taxpayers who are already struggling to make ends meet on their own.
Additionally, Trump announced his presidential bid in June of 2015, a full year and six months before he would go on to win the White House. Then, he was confirmed as the Republican nominee in July 2016. Melania had plenty of time to prepare herself and her son for their move to the White House — a move that has been expected of the first family for decades.
Lastly, the first lady is worth millions herself, and there is no reason why she shouldn't use that to fund her stay in New York. Quite frankly, taxpayers can't afford to pay for her choices.