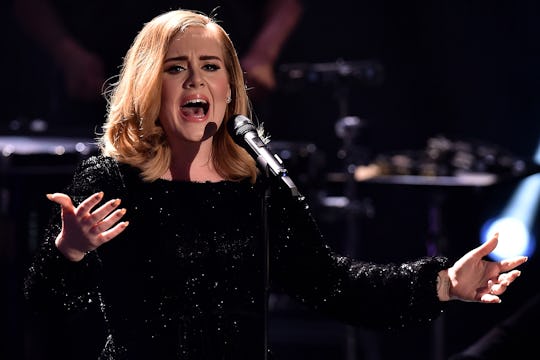 Sascha Steinbach/Getty Images News
Why Did Adele Name Her Son Angelo? She Wears His Name Around Her Neck
Adele is known for keeping her personal life private. Now that she's set to perform for The 58th Grammys on Monday, fans will be watching to see if she brings boyfriend Simon Konecki and her son to see her sing. When she gave birth in 2012, Adele didn't provide many details about the new addition to her family, including his name, for a long time. Why did Adele name her son Angelo? Though it doesn't appear as though Adele has ever offered the meaning behind the choice, it does have a beautiful translation.
The singer's son's name didn't surface until early 2013, according to The Huffington Post. Adele declined to share a name shortly after her son was born, saying it was a "very personal" matter. But when she went shopping at Bel-Bambini in West Hollywood, paparazzi caught her wearing an "Angelo" necklace. Eventually, the world got confirmation that Adele's baby was indeed named Angelo. The Italian name Angelo means "angel," according to Oxford Dictionaries.
Little is known about Adele's son besides his name, and that's the way Adele likes it. In 2014, Angelo James Konecki was awarded a damage settlement after a photo agency took and published pictures of him, Rolling Stone reported. The goal, according to lawyer Jenny Afia, is to keep the child from becoming "public property." Adele shared her reasoning behind keeping Angelo out of the spotlight in an interview with USA Today:
I don't want that for (Angelo) until he can start making his own decisions. Right now he can choose if he wants a bag of crisps or a banana, but he can't make a choice about being in the public eye. If when he's 16 he wants to be known for being my child, he can do that. But right now he's very much a minor, and we have vowed to make that decision for him.
Fans may not see Angelo often, but they did get to hear him: his voice is at the beginning and end of the track "Sweetest Devotion" on Adele's album 25. Adele told USA Today that she wrote the song about Angelo and said, "I love that my life is now about someone else." Adele is arguably having one of the biggest years of her career, evidenced by the overwhelming success of 25 and the scramble for tickets to her North American tour (which sold out within minutes in some markets). Through everything, Angelo is often with the singer. Though Adele acknowledged that there are some things she misses about a life with fewer responsibilities, she told People that her son plays an important role in her life:
He just brings me back down to earth. So I'm feeling pretty balanced about it, actually, and I have only him to thank for that.
Adele may love her career, but it's clear that her son has her heart.