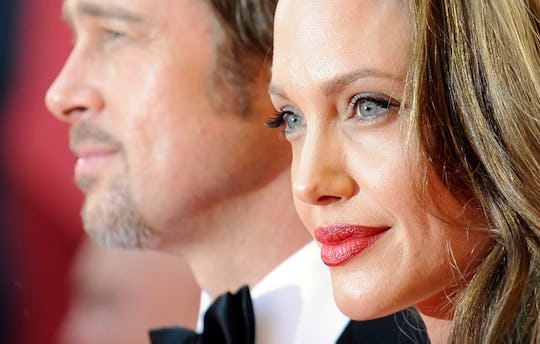 ANNE-CHRISTINE POUJOULAT/AFP/Getty Images
Why Did Angelina Jolie Get Custody Of Her Kids? Brad Pitt Will Get "Therapeutic Visits"
Nearly two months after Angelina Jolie filed for divorce from husband Brad Pitt on Sept. 19, her rep has released a statement to Us Weekly confirming the estranged spouses have finally reached a permanent custody agreement for their six children: Maddox, 15; Pax, 12; Zahara, 11; Shiloh, 10; and 8-year-old twins Knox and Vivienne. The statement comes just days after Pitt answered Jolie's initial filing; in his Nov. 4 response, Pitt had sought joint physical and legal custody of the kids. However, the newest arrangement apparently means Jolie gets sole physical custody of her kids, while Pitt has been awarded "therapeutic visits" and will retain joint legal custody.
The statement to Us Weekly reads in part:
We can confirm that childcare professionals have encouraged a legal agreement accepted and signed by both sides over a week ago. In accordance with this agreement, the six children will stay in their mother's custody, and the children will continue therapeutic visits with their father. We are not in a position to discuss the details. We believe that all sides are committed to healing the family and ask for your consideration during this difficult time.
The custody arrangement includes some of the same terms the couple had agreed to under a temporary deal reached in late September, such as meetings with therapists and Pitt's continued visitation rights. An insider close to Jolie tells Us Weekly the new agreement has no expiration date, and can only be changed if both parties agree or if Pitt files a new motion in court.
However, despite the statement released by Jolie's rep, TMZ reports that no settlement has been reached:
Multiple sources familiar with the situation are scoffing at the report that the divorcing couple struck a settlement giving Angelina primary physical custody while Brad got visitation.
According to TMZ, the couple agreed to a temporary extension of the custody arrangement, and only until the L.A. County Dept. of Children and Family Services closes its investigation into the couple. If you'll recall, that probe stems from an anonymous report of a Sept. 14 incident on the family's private plane, during which Pitt allegedly became verbally and physically abusive with Maddox after the child intervened in an argument his parents were having. Though Pitt never released a statement responding to these allegations of child abuse, a source close to the actor told The Independent that:
He takes the matter very seriously and says he did not commit any abuse of his children. It's unfortunate that people involved are continuing to present him in the worst possible light. I think the most important thing is the fact that he is cooperating and that he takes it seriously, he recognizes it is a serious matter and he is willing to do whatever will be best for his family.
Other insiders familiar with the case seem to back up TMZ's claims. For example, a "legal source" told Us Weekly that any custody agreement was likely an extension of Pitt and Jolie's temporary, voluntary parenting plan:
This doesn't make sense in light of the fact that Brad filed for joint custody on Friday. It had to be a temporary extension of the previous voluntary agreement in light of the fact he filed on Friday. His motion was actually filed with the court.
And so the plot thickens...