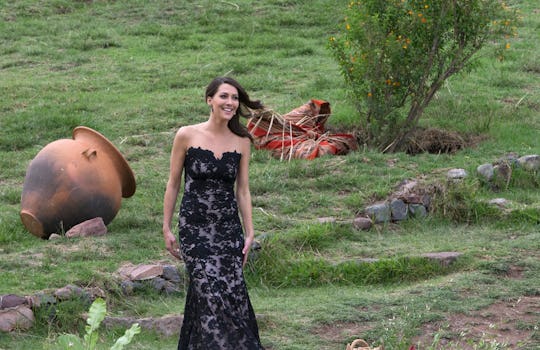 ABC
Arie Made A Jaw-Dropping Decision On 'The Bachelor' That Will Leave You Shook
For weeks now, Chris Harrison has been promising Bachelor Nation that Arie's season would have the most dramatic finale ever. And he may have finally come through on his promise when it was revealed that Arie decided to change his mind and leave Becca at some point after the show stopped filming. But why did Arie break up with Becca after The Bachelor? As we probably could have predicted, Arie simply wasn't over Lauren, and finally made the decision to end his engagement to Becca (after a conversation with Chris Harrison of course).
From the very beginning, Arie has been saying over and over that he actually fell in love with two women on the show. That can't have been great for Becca to hear while they were still engaged. Because Arie didn't end the engagement until after the show had actually started airing on TV. Unfortunately, although Arie fell in love with both Lauren and Becca while he was on the show, it turns out he loved Lauren just a little bit more. Arie had said that one of his biggest fears with this journey was choosing the wrong woman, and it looks like this was with good reason. I don't necessarily agree with the way this breakup happened, but if Arie felt stronger for someone else he definitely should have ended things with Becca.
Before the episode even aired, Us Weekly reported that a source told them that Arie had experienced a change of heart after the show had started airing. According to those reports, he just couldn't stop thinking about Lauren even while engaged to Becca. And when he did break up with her, he wasn't sympathetic "or even very nice." Well, everyone got to see how all of this played out on the actual show on Monday and it was about as crushing as anyone could have expected.
After Arie finally said goodbye to Lauren and proposed to Becca, the show flashed forward to Arie and Becca living "happily" in their little hideaway. And then Arie confessed to the camera that in his moments with Becca, he thinks about what those moments would have been like with Lauren. He said that he goes to bed and thinks about Lauren. And then he wakes up and thinks about Lauren. And that's even after he told Becca that would choose her "every day." It was agonizing.
On the show, Arie said that he felt like "a monster," which is not an unreasonable thing to feel after unexpectedly ending an engagement with someone on national TV. This is just a guess, but Arie might have perhaps felt like less of a monster if the breakup happened privately. But hey, I'm just throwing things out there. As for how Becca's doing after this whole debacle, I'm going to go ahead and say she's probably better off without Arie in her life. Nobody wants to be with someone who's still in love with someone else.
Everyone going into this process must know that it is a long, emotional journey. I suspect that not everybody realizes that they might develop real feelings, and that there's a possibility of their hearts being broken on TV. It makes for compelling entertainment for sure, but it's still hard to watch anyone go through that. I can only hope that Arie and Lauren are happy now, and I say that without a hint of bitterness, even for Becca's sake. Sometimes, the heart just wants what it wants and nothing can stop that.
Check out Romper's new video series, Romper's Doula Diaries:
Watch full episodes of Romper's Doula Diaries on Facebook Watch.