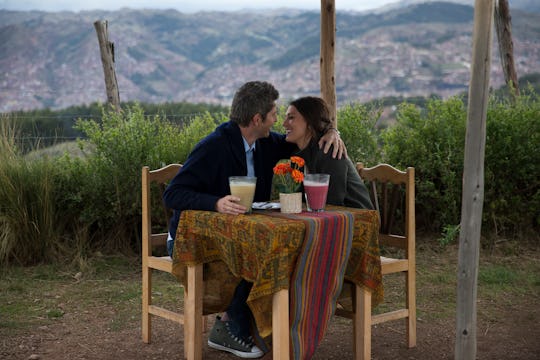 Paul Hebert/ABC
Arie's Change Of Heart Has Left 'Bachelor' Nation With So Many Feelings
Usually on The Bachelor, the lead tends to stick with his final choice — at least until the show has finished airing. There are only a couple of times when the lead has had a change of heart at the last minute. The first was when Jason Mesnick took back his engagement to Melissa Rycroft on the After the Final Rose special. The second is Arie. But why did Arie change his mind on The Bachelor? It looks like he realized (a little late) that his feelings for Lauren B. were simply stronger than his feelings for Becca. And now the rest of Bachelor Nation has extremely strong feelings about everyone involved here.
The fact of the matter is that it's impossible to tell exactly why Arie did anything, since I am not a mind-reader and I'm assuming you aren't either. The only thing I have to go on is what Arie has said himself. Let's start with the fact that Arie has said approximately 100 billion times that he fell in love with two women while on the show. He also said that he was most afraid of choosing the wrong woman at the end of the whole journey. Well, it looks like that's exactly what he did.
So if Arie was having second thoughts the whole time, why did he get engaged to either of them at the end of this? That is my primary question. If he was still in love with Lauren, he probably shouldn't have proposed to Becca. And if he was in love with Becca, then he shouldn't have proposed to Lauren either. Basically from everything I can tell, Arie changed his mind simply because he couldn't stop thinking about Lauren even while he was engaged to Becca. Yes this is terrible for Becca and the whole thing is a mess, but at least she's no longer stuck in a relationship with a guy who's not fully committed to her.
On the live finale, Chris Harrison teased (several times) that the show was going to be showing the full heartbreaking breakup as it really occurred, unedited and uncut. Arie admitted to Becca that he went to bed and woke up thinking about Lauren. He said that the closer his relationship got with Becca, the further away he could see his chances with Lauren slipping. To this wondrous comment Becca very reasonably said something along the lines of, "Yeah, welcome to adult relationships." At the end of the day, Arie clearly felt more for Lauren than he did for Becca.
The finale showed that Becca was clearly heartbroken, effective even without the show's usual swelling and emotional music. "I hope you get what you want," she said, adding, "It's clearly not me." I've said it before and I'll say it again, Becca has the best shut-downs of men in history and we should all aspire to be this cool in the face of a terrible situation. Even as Arie tried to say that he had so much more to say, Becca simply shut him down.
At the end of the day, Arie's biggest fears about this whole thing turned out to be true. He said he was worried about picking the wrong person, and he said several times that he wasn't sure who to choose between Becca and Lauren. It turns out that he made the wrong decision after all. And he even went so far as to propose to her. Even if you can find it in your heart to forgive Arie for being confused, that was really rough.
Check out Romper's new video series, Romper's Doula Diaries:
Watch full episodes of Romper's Doula Diaries on Facebook Watch.