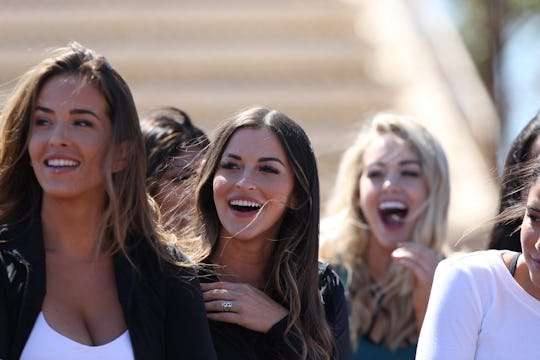 Paul Hebert/ABC
You Won't Believe Who Arie Sent Packing After 'The Bachelor' Hometown Dates
Well, it's about that time where Bachelor eliminations start to sting. On Monday night's episode, Arie made his toughest decision yet by saying goodbye to one of his four hometown dates. But, in the end, he opted to say goodbye to Tia Booth, which proved to be fairly shocking to many fans out there. So why did Arie send Tia home on The Bachelor? Before visiting Arkansas, Tia told Arie that she was falling in love with him. Arie didn't reciprocate, which is usual Bachelor behavior... except when Lauren B. told him later, she said it to her.
Regardless, Tia was one of the four left for hometown dates and Arie visited her family in Weiner, Arkansas (who could forget her "little wiener" joke at the beginning of the season). At the rose ceremony following the visit, though, Arie chose to send her packing. But what exactly led him to that decision. It certainly didn't come easy.
More than ever before, it appeared that a lead had a tough decision when choosing three women to move forward. Before the rose ceremony began, Arie took Kendall aside to have a chat over whether she's ready for marriage. She assured him that, yes, what she felt for Arie was real and if she got to that point she would consider marrying him.
Arie hinted that he was choosing between Kendall and another contestant, someone "who's very ready to be married." During the rose ceremony, the hints were confirmed: Kendall wasn't going home; Tia was. Immediately, Twitter was flooded with takes:
The reactions to Tia's elimination ran the gamut. Some felt that Arie made the wrong decision — he should've eliminated Kendall instead — while others were happy she was gone. I can understand both sides. On one, I'm completely surprised; by this point on The Bachelor, eliminations are usually predictable. I was expecting Kendall to go home. Not only was her date the most odd (seeing taxidermy, making taxidermy, and dressing said taxidermy up), but unlike the other contestants, Kendall hasn't been as forward with her feelings.
Tia was the first contestant this season to drop the "I love you." This was weeks ago; the contestant usually jumps the gun when they do this. When she revealed this to Arie on a one-on-one date, he just kissed her. No reciprocation, but hey — at that point, that was typical Bachelor behavior. No "I love you's" until the proposal! Well, Arie broke that unspoken rule last week when he said "I love you" to Lauren B. This was unprecedented, and the fact that he did this with Lauren and not Tia wasn't exactly promising about Tia's fate. Despite that, though, she lasted through the weeks and made it to the hometown dates.
Tia's date was, I admit, a bit boring. Her family was skeptical of Arie but honestly, if they weren't, I'd be a little scared. Tia's BFF Raven didn't even show up due to editing constraints, I suppose. I had already forgotten what the date was like when the rose ceremony came along. Once Arie pulled Kendall aside, it was clear that it was one of the other women who were going home.
Listen, I was overall a fan of Tia, but her behavior at the rose ceremony turned me off. She said the group there (herself, Becca, and Lauren) "made the most sense" for who would make the top three, so she was shading Kendall hard. It was also obvious that she was blindsided by her elimination. She even went so far as to ask Arie what exactly she did wrong. While it was sad, I couldn't help but think this was all setting up a Bachelorette narrative. But for now, Tia goes while Kendall remains.
Check out Romper's new video series, Romper's Doula Diaries:
Watch full episodes of Romper's Doula Diaries on Facebook Watch.