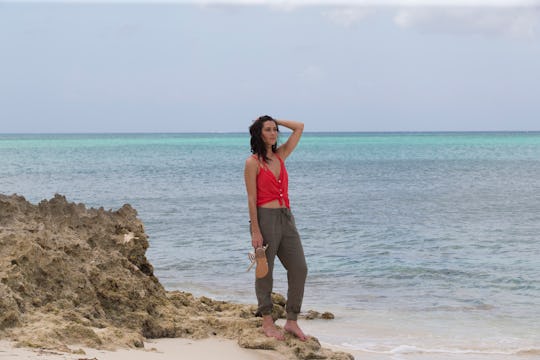 Paul Hebert/ABC
Becca Has Serious Doubts About Jason On 'The Bachelorette'
It's been a long season for Becca Kufrin, who's seen some contestants of the off-duty model variety, in-love-too-soon type, and then the three men she finally narrowed her suitors down to, including Jason Tartick. During their daytime date before the potential fantasy suite, however, they hit a roadblock, leaving many fans to wonder why Becca walked away from her date with Jason on The Bachelorette. As they exited a temple while exploring the town in Thailand, Becca made a comment about her future with Jason and their future together. Right afterward, though, she realized how "off" it felt and how unnatural it felt, leading her to also realize that they weren't meant to continue their relationship.
Becca told a producer that she was feeling overwhelmed and that her future with Jason didn't seem as clear as it did with the other remaining men. Later, she said, "I'm falling in love with Jason, but I'm in love with two other men. It's just not fair to keep him around if I don't see us getting there in the end."
When she left their date once again, in the middle of the dinner portion, Jason had to know something was up. And it was then that Becca really seemed to realize that they didn't have much of a solid future together.
Instead of heading into the fantasy suite portion of the date with Jason, she opted to send him home before they even read Chris Harrison's letter. She admitted that she sees more of a future with both Garrett Yrigoyen and Blake Horstmann and that she didn't want to prolong their relationship if there wasn't a solid future there with him.
"I can't put you through an overnight and me through an overnight if its not 100 percent there," Becca told him, shortly before their date ended and he left.
For Jason, it was a pretty big shock, as their relationship had seemed fairly solid after hometown dates. My guess is that Becca too was surprised by her own feelings that seemed to sneak up on her during their date on Monday's episode of The Bachelorette. At the very least, Becca acted on her feelings right away instead of continuing their relationship and giving Jason false hope.
Afterward, Becca sort of beat herself up over the breakup, claiming that she did to Jason what Arie Luyendyk Jr. did to her during their post-Bachelor breakup, but let's be real here. She was upfront with Jason as soon as she realized that his feelings weren't reciprocated on her part and she talked to him about it instead of securing a spot with someone else first.
As Becca explained, it was no easy decision to send Jason home ahead of their overnight date and before they could even get to a rose ceremony of any kind. She just acted on her feelings, and that's really what was best for the both of them in the long run.
"I didn't think that halfway through, I would have this epiphany moment where I didn't feel it and I couldn't see it," she said, of her final date with Jason. "I know that, because it's just how I feel in my heart. I feel it more, I see it more, with Garrett and Blake. And I think those guys are just the better fits for me."
Becca's feelings were stronger for Blake and Garrett. And since it was a matter of a week and a half before a proposal would take place, it was as good a time as any for her to be open and honest with Jason.