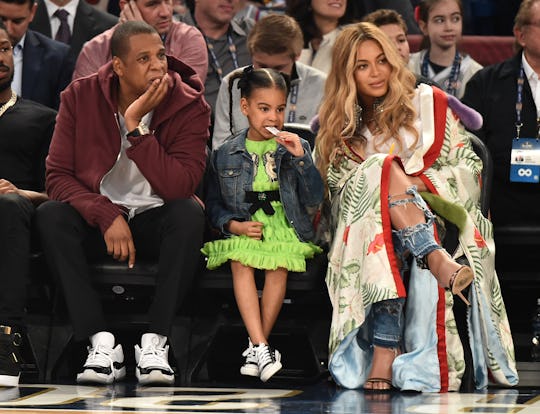 Theo Wargo/Getty Images Entertainment/Getty Images
Why Did Beyoncé Wait To Announce Her Twins' Birth?
Saturday night the long awaited news finally broke: Beyoncé gave birth to her much anticipated Geminis "earlier this week," according to Us Weekly. In an era when everyone has social media at their fingertips, that begs the question, Why did Beyoncé wait to announce her twins' birth? Considering that we are talking about one of the most famous women in the world, though, it's not so surprising.
UPDATE: TMZ reported on Sunday that Beyoncé's twins were still in the hospital for a "minor issue," but, according to a source, were "expected to be okay." Beyoncé herself was also reportedly still in the hospital, but would likely be "okay" as well, the source claimed. The outlet did not know the nature of the twins' condition. Later on Sunday, Us Weekly reported that, according to anonymous sources, Beyoncé and Jay Z had welcomed a baby boy and baby girl. The singer's reps did not immediately confirm the reports or release the twins' names.
EARLIER: The initial reports Saturday night didn't include the exact date of the twins' birth, so it wasn't yet known how long Beyoncé and her husband, businessman and hip hop artist Jay Z, delayed spilling the beans on their new arrivals. When their now 5-year-old daughter was born on Jan. 7, 2012, they didn't release the news for two days, at which point MTV broke the story of Blue Ivy's birth. Comedy Central's Twitter account joked Saturday that Jay Z's music streaming business, Tidal, which is known for limiting releases only to subscribers and making everyone else wait a very long, arguably unnecessary time, notified its customers of the news a week before.
In all seriousness, though, there are multiple good reasons why Beyoncé might want to delay the announcement. She, Jay Z, and Blue Ivy might want a minute to enjoy the new arrivals without millions of eyes on them, or a slew of endless questions and shocking flash photography. The twins could have some (hopefully minor) complications that the preferred to address without paparazzi trying to barge into the NICU. Beyoncé may have had a c-section and wanted a few days to recover from major abdominal surgery before the details as to how her babies left her body is open to public scrutiny (and unfortunately, probably shame).
Any of those reasons would be totally valid, and that's important to remember as adoring fans await the twins' birth date and an official announcement from the Carter family. Do we all want to know every single detail, if only because we love this family as if they are our collective saving grace from the current reality that is our political climate and news cycle? Sure, and understandably. Still, that love and need for reprieve shouldn't impede on the new family of five. Beyoncé and her family, just like any other new mother and regardless of how successful and influential she may be, deserves some much-needed privacy to simply enjoy being the mother of, now, three.