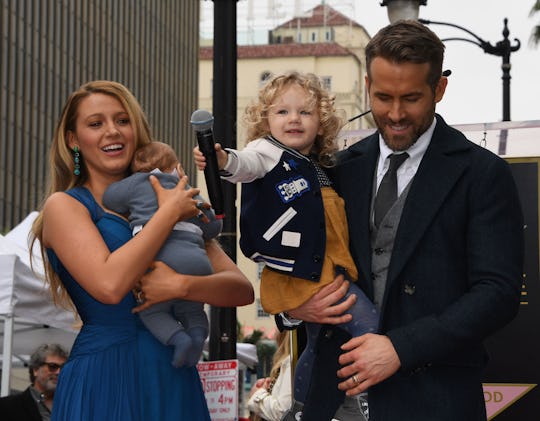 MARK RALSTON/AFP/Getty Images
What's The Inspiration Behind Ines' Name?
The notoriously private and equally beloved married couple Blake Lively and Ryan Reynolds have recently (or finally?) revealed their second daughter's name to the public. Fans have now learned that their newborn baby girl's name is Ines, and the reveal came a few months after she was born in September. But since truly loyal Lively and Reynolds fans know the couple has a thing for picking names connected to deeper meanings – you know, their first daughter James was named after Reynolds' late father – many may be wondering about the inspiration behind Ines. So why did Lively and Reynolds name their daughter Ines? The couple continues to toy with the public's ever-so-fragile emotions.
Last week, US Weekly confirmed their second daughter's name in an article highlighting the family's public outing during Reynolds' Hollywood Walk of Fame ceremony, in which he was honored with a star the week prior. But since confirmation of the adorable name, there's been little information about the inspiration behind it. But this isn't exactly all that surprising considering the meaning behind James' named was revealed months and some more months after the now-2-year-old was born.
So it appears fans of the Blake-Lively-Ryan-Reynolds-clan will have to keep guessing as to the inspiration behind Ines. Perhaps it's another family name? Or maybe a character from a book or film the couple adores? Either way, one thing is for sure, their growing family continues to be absolutely adorable.
In an interview with Entertainment Tonight during Reynolds' Hollywood Walk of Fame ceremony, the Deadpool actor explained he and Lively decided to change up their normal private habits, and bring their daughters to his ceremony instead:
Normally we don't drop the whole family out like this, but I just thought I'd regret this in 20 years if I didn't have my kids here as well... So we all, we decided collectively just to come down here in one big movement and be a part of this...
And it sure was a memorable moment — certainly a proud moment for his family and an equally awe-inducing moment for the fans. Reynolds had this to say about his wife, and daughters during his speech at the ceremony:
"I want to thank my wife, Blake, you make everything better, I mean absolutely everything in my life better," he said in a video captured by ET. "You've given us two of the most incredible children I could ever hope to have..."
OK, swooning overload.