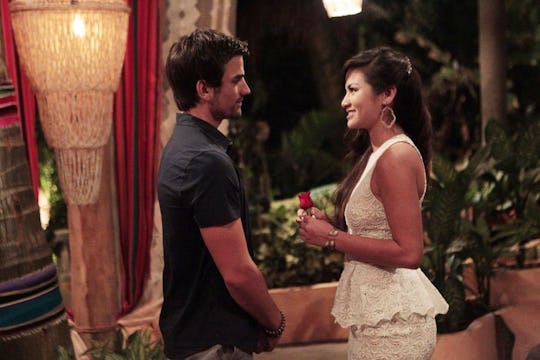 ABC/Rick Rowell
Why Did Caila & Jared Break Up After 'Bachelor In Paradise'? They Gave It A Shot
When Caila and Jared left Bachelor in Paradise, it was like two lovers running away from the forces trying to tear them apart. In this case, Ashley I. And after they got home, they did date for several weeks, but as much as they wanted it to work, Caila and Jared broke up after Bachelor in Paradise. That's right, the star-crossed couple ended up fighting for their relationship for virtually nothing. Granted, they did stick it to Ashley and run off together, but out in the real world, Ashley was still present.
Since Ashley and Jared are good friends in real life, according to Caila, "friends" kept calling Jared, which could only mean the one friend any girlfriend would hate contacting their boyfriend. And when these friends called, Jared answered, because he's a nice guy, but probably too nice of a guy. Because of everything that happened between the three of them on Bachelor in Paradise, they just "couldn't get past paradise," according to Caila, and that was a large part of their downfall as a couple.
Jared and Caila dated after Bachelor in Paradise, but the experience on the show and even following after, was too much for their new relationship to handle.
In the six weeks that Caila and Jared dated after Bachelor in Paradise (yes, that's right, six more weeks after the show, which is kind of amazing), they met each other's parents and really because a bona fide couple, but as we've seen ourselves, Ashley is not one to stand by and watch anything happen that she doesn't want to happen. Maybe if this was Rock of Love, Caila and Ashley would have thrown down a long time ago, but Caila clearly decided that the link Ashley had to Jared and vice versa was too much for her to stick around and endure.
Even after the way Caila and Jared's relationship ended, which was due in large part to Ashley's actions and words, Ashley wasn't as apologetic as she probably should have been when talking to the now former couple on After Paradise. It's hard to see paradise's sweetheart, Caila, lose the guy she fought for almost the entire season she was on Bachelor in Paradise, but it's hard to stay solid when you have a strong and even overbearing presence like Ashley hovering over you at every freaking turn.
At the very least, it's still kind of amazing that Caila and Jared gave it a real shot after they left Bachelor in Paradise and that's all we can ask.