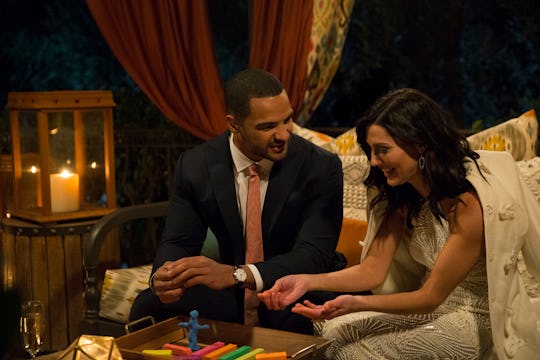 Paul Hebert/ABC
An Injury Forced This 'Bachelorette' Favorite To Pack His Bags Early
Warning: Bachelorette spoilers ahead! When it's only week three and there's already two injured contestants, you know that The Bachelorette is off to an intense start. Dare I say, it's sure to be the most dramatic season yet! But after Clay Harbor injured himself on a group date that actually ended pretty well for him specifically, he had to excuse himself. So, why did Clay leave The Bachelorette? When he and his team on the five-on-five football date played hard to try and win in front of Becca Kufrin watching on the sidelines, he actually got seriously hurt in the process.
Of course the injury wasn't intentional, but Clay actually broke his wrist during the game and after it ended in a tie and he won the date rose, he eventually had to go to the emergency room. After getting checked out, it was determined that the injury was much more severe than simply a strain or a sprain and surgery was necessary, which meant that it was best for Clay to leave. Obviously the decision to say goodbye wasn't easy for him and probably not for Becca either, as she obviously saw something in him before deciding to give him the group date rose. But as a professional football player, with surgery necessary, it was probably the best move for him to leave the show altogether rather than try and return with a healing broken wrist that would require physical therapy.
On the first night, Clay was among the contestants who made a pretty decent first impression on Becca. He might not have gotten the actual first impression rose, but he was adorable in teaching Becca the "Backpack Kid" dance and a little handshake. He also wasn't part of any of the drama that ensued that night, or the drama during the following week, yet he still managed to seem like a potential frontrunner for Becca's heart and more roses. He could have honestly gotten far this season, which makes it harder to see him as one of the first to have to leave at his own discretion. While he may not have made it as far as hometown dates, it's hard to say goodbye already, before Becca and the guys even leave the Bachelor Mansion to travel. But, as previously stated, it really seems like there was no other choice for him.
It's unclear just how serious Clay's broken wrist was on The Bachelorette, but if it was serious enough to need surgery right away, then he'd also need weeks of physical therapy to properly recuperate afterward. In fact, in some cases, a cast will need to remain on a broken wrist post-surgery for at least six weeks. While this wouldn't necessarily limit Clay's ability to go on dates and fall in love with Becca and vice versa, it could make it difficult to be able to travel to other countries, as contestants tend to do on these shows. Plus, he'd likely need physical therapy after getting the cast removed, and that would be a whole other logistical issue. To make matters easier on Clay, it was best to just excuse himself from the rest of the season and focus on his health.
The best case scenario would have probably been a sprain, or just a strained wrist, which would allow him to leave the house to have it checked out and then return to continue the competition. But since Clay's broken wrist required surgery, it made the most sense for him to say goodbye and give back the group date rose.
At the very least, this happened early on in the season, so they likely hadn't developed very strong feelings for each other just yet. Since he seems like a genuinely good guy who was definitely there for the right reasons, it's kind of heartbreaking that the circumstances forced him to leave. Maybe we'll see him on Bachelor In Paradise? We'll just have to wait and see.