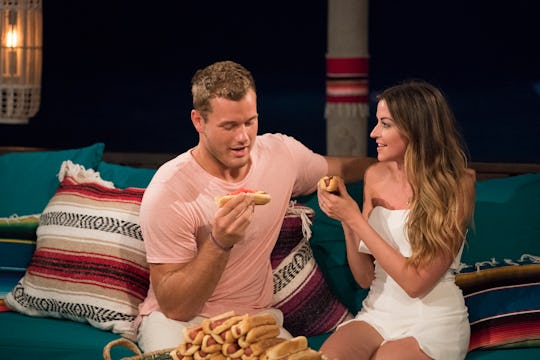 Paul Hebert/ABC
So, This Is Why Colton Decided To Leave 'Bachelor In Paradise' On His Own Terms
Colton and Tia had the potential to be the next Ashley I. and Jared of The Bachelor franchise. But after they both went home separately on Bachelor in Paradise on the Sept. 3 episode, they made it clear that an engagement and reality TV happy ending may not be in the cards for them after all. Their relationship seemed like it was going well for the pair, so you almost have to wonder why Colton left Bachelor in Paradise so early. In his own words, it was because he didn't feel strongly enough about Tia and their relationship to keep going.
On the flipside, he also said on BiP that he wouldn't want to be with anyone else in Paradise, so going home made sense. It didn't seem like the easiest decision for Colton to make, and it was filled with tears and his own questions about himself and whether or not there's "something wrong" with him. Afterward, he took to Instagram to talk about it his BiP breakup with Tia and had some kind words for her, so at the very least, they seem to be in a good place right now, even if it isn't romantically.
"Thank you for teaching me even more about myself, and most importantly, for your friendship that I know will continue far beyond Paradise," he wrote. "Don't settle for anything less than the world, because that's what you deserve. Can't wait to see what the future has in store for you and catch up on life someday, preferably over a hot dog dinner."
As most fans already know by now, Colton is also going to be the next Bachelor. And while I doubt that he left BiP for the sole reason of gearing up for his own season of roses and a dozen or so potential wives, just because he left Paradise early, it doesn't mean that he's not ready to find love. He even said on BiP that going on the show and giving his relationship with Tia a chance showed him that he is ready to find someone to be with. Unfortunately, he also realized that the person isn't Tia and he was sure to tell her as much once he realized that himself.
"I would like to say we are finally on the same page for the first time in our relationship, and we're just good friends," Colton told Michael Strahan on Good Morning America on Tuesday, Sept. 4, following The Bachelor announcement.
He also said that his past public reaction ship with Olympic gold medalist Aly Raisman and going on both The Bachelorette and BiP helped him realize what he wants. "I think it took all of that to get to where I am at now and know who I am as a person and know what I want in a life partner," he admitted.
Following the reveal that Colton is the next Bachelor, he told People that his relationships with both Becca Kufrin and Tia helped him get to this point. So while it may be hard for fans who'd hoped for Tia and Colton to be endgame, at least he can give credit where credit is due.
"I can't say enough good things about Becca and enough good things about Tia," he said. "They've helped me grow and discover who I am and what I'm looking for in a wife."
Colton also revealed to the magazine that his reason for breaking things off with Tia and leaving Paradise wasn't anything big and shocking. He just woke up one morning and realized that the future had thought was there for him and Tia wasn't. Again, I absolutely agree that it was hard to watch them break up yet again, but I also think Colton did the right thing in telling Tia how he felt before stringing her along to the end of the season with doubts in his mind.
I wouldn't be surprised if Tia made a surprise appearance on Colton's season of The Bachelor, if only to give him advice, but it really does look like they're done romantically. Hopefully Colton can find what he's been looking for once his season officially kicks off.