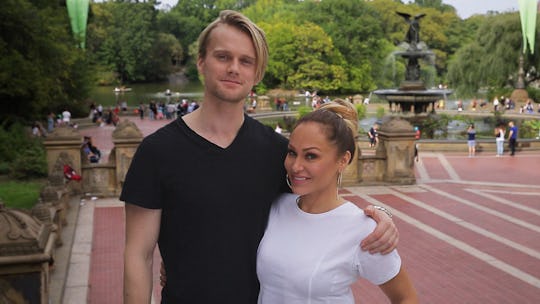 TLC
Darcey & Jesse Had An Explosive Break Up On '90 Day Fiance'
While some couples fall in love on Before the 90 Days, others fall out of it. On the last episode, the audience saw Darcey and Jesse fall out of love, and it wasn't pretty. Why did Darcey and Jesse break up on 90 Day Fiancé? It was a long time coming.
In "Just A Try," Darcey and Jesse tried to make it work at first. The episode picked up where the last left off: Darcey and Jesse were fighting over how to cook steak. Jesse was still huffing over the steak and refusing to eat — even the carrot cake he prided himself on. Darcey's daughter made a comment that she and her sister (who are pre-teens) are more mature than they are and honestly, I thought they were right.
Cut to later when Darcey and Jesse are screaming at each other (again), and Jesse says that Darcey threw a shoe at him. This all apparently began because Darcey was cold and put her feet in Jesse's shoes. He got angry and apparently Darcey "grabbed her Louboutins and threw them." It was the final straw for Jesse, who said he couldn't be with someone who does this. In my opinion, both of them were in the wrong. Jesse shouldn't have gotten so angry over something Darcey didn't know would upset him (wearing his shoes), and Darcey in turn shouldn't have thrown her shoes at him.
That wasn't the end, though. Darcey and Jesse sat down for an interview were Darcey said she was tired of Jesse's games; Jesse replied that she should just break up with him then. Jesse calls Darcey receptive and packs up his stuff again, just like he did when they visited New York City. Before he goes he tells Darcey to "keep drinking away her problems," which is a pretty low blow.
I'm not going to lie, their fallout was hard to watch. Some fans may have predicted this would happen, though. In March, Darcey and Jesse scrubbed all signs of each other from their Instagram accounts. Furthermore, Darcey posted a cheeky post on her (now-private) Instagram, where she previewed her new song "Lock Your Number." The caption read, "Here's a wink for you all!" That wink was perhaps about how she and Jesse are no longer together.
While Darcey was being more subtle in her shade, Jesse seems to be more outright with it. In an interview on the podcast Reality Life with Kate Casey, Jesse opened up about what went wrong with him and Darcey. "In my relationship, Darcey doesn't per se have bad intentions, but getting to know her more, you get to see that a lot of it is fake. I can say now to you that I have a business, I'm a very successful man, that I did this and I did this — but that doesn't mean that it's true," he said.
Interestingly enough, this interviewed occurred on August 31, a couple weeks before their break-up aired. Jesse didn't say they broke-up per se, but he did stop some hints.
So whatever perception I give you, whatever is on the show or whatever narrative you get from social media is just what I want you to see. And for me, when it comes to a relationship I don't care what you do in [the] entertainment industry as far as faking everything, but I expect you, if I fall in love with you, to be real with me. I don't want to fall in love with a facade, with a fake reality and that's kind of what I was experiencing.
So, there you have it. Jesse believed Darcey created a "fake" reality for him while Darcey had had enough of the way Jesse treated her. Viewers will have to see if other couples last by watching the rest of the Before the 90 Days season.