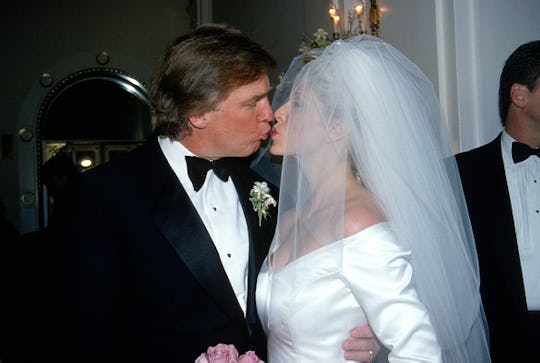 Sonia Moskowitz/Getty
Why Did Donald Trump & Marla Maples Divorce? They Have Remained Supportive Of Each Other
This season of Dancing with the Stars has been particularly Donald Trump-heavy, and it's only Week 2. I guess that was to be expected when his ex-wife and actress Marla Maples was a contestant and former-contestant Geraldo Rivera dressed up as him for his final dance. Unlike the way in which their marriage began, there was no huge scandal that precipitated the split between Donald Trump and Marla Maples in 1997. So why did Trump and Maples divorce?
According to a People magazine article from the same year, a friend said that Donald was more in "lust" than in "love" with Maples to begin with.By this time, the couple's daughter, Tiffany, was three years old.
According to the same article, the couple requested the public to respect their privacy, and focus on "more important issues," a request that earned little more than a snort of derision from the magazine. "Right," the article reads, "This is The Donald we're talking about." According to the mag, The Donald "gleefully" followed the news of his marital troubles in the news. But he did not go into any details about his divorce more explicit than, "Marla's a good girl. But I wanted out." He even went so far as to admit that it must be difficult to be on the other side of a relationship with someone like himself.
Friends speculated that the two simply weren't that compatible to begin with. Maples has always been known for her eager spirituality, and Trump has, well, not been. Try as she might to bring this love and spirituality into her marriage, Trump's business-oriented mind and life just wasn't receptive to that. Nor was it particularly receptive to his mother-in-law, who was often close by to be near her daughter and granddaughter.
The divorce in 1999 was apparently just shy of the length of time that would have entitled Maples to a heftier portion of Trump's fortune as stipulated by their prenuptial agreement. As it was, Maples walked away with only around $2 million. It's nothing to sneeze at, but not exactly a windfall considering Trump's net worth.
Regardless of how their marriage ended, things seem to have remained quite courteous and cordial between them.
In her "Where Are They Now?" segment on Oprah, Maples stated that she still loves Donald, and even cries when she sees his kids on TV. She has even remained supportive of her ex when confronted with evidence suggesting that Trump was condoning violence at his rallies on The View. She has always said that Trump was a good father to Tiffany. Trump, for his part, is supportive of Maples as well. In reference to her turn on Dancing With the Stars, Trump told People that he's very happy for her.