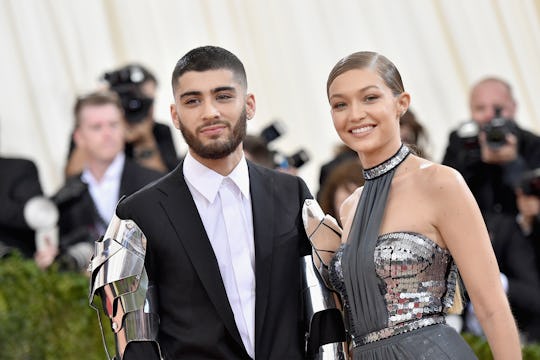 Mike Coppola/Getty Images Entertainment/Getty Images
Why Did Gigi Hadid & Zayn Malik Break Up? It Might Just Be A Bump In The Road
Young love in Hollywood is really having a rough week. According to E! News, supermodel Gigi Hadid and singer Zayn Malik have broken up after roughly seven months of dating. So, why did Gigi Hadid and Zayn Malik break up? A source told E! News that the couple has been through some "rough patches" and they've had an on again, off again kind of relationship.
According to E! News, a source said they might even get back together tomorrow. "Zayn and Gigi did break up," the source told E! News. "It's all very unclear what's going on between them now. They have been having some issues lately that involved communication and getting along." A different source told E! News that the couple was fighting on Hadid's birthday and this isn't the first time they've called it quits.
Last month Life & Style reported that the young Hollywood couple was constantly fighting and their relationship was "on the rocks" because Malik was in communication with his ex. "Gigi keeps catching Zayn talking to his ex-fiancee, U.K. singer, Perrie Edwards," a source told Life & Style on May 11. "He's just not sure he can fully commit to her."
The high-fashion and high-profile couple started dating in November last year and were last spotted together at the Met Gala in NYC last month, where they made their public debut as a couple.
Although sources say they've broken up before, everything seemed to be going great between the pair to the public eye. Just last week Hadid posted a photo of her and Malik peeking out from under a sheet, which she captioned "missing you."
They seemed to be happier than ever in April during a photoshoot with Vogue The magazine captured Hadid and Malik in gorgeous Naples, Italy, which showcased the couple riding motorcycles, strolling through cobble-stoned Italian streets hand-in-hand, and even making out in front of some romantic backdrops.
On Wednesday, June 1, Hadid looked stressed when she was spotted chatting with friend and fellow model Kendall Jenner while having lunch in Los Angeles, according to Us Weekly. In the photo, Jenner looked sympathetic and as she perhaps offered Hadid some relationship advice.
News of the breakup comes just a day after reports that Taylor Swift and Calvin Harris also called it quits. The squad might be going for the single lady lifestyle. If sources are right, this might just be a pretty public bump in the road for Hadid and Malik. Looks like we'll have to stayed tuned to see if these sources had it right.