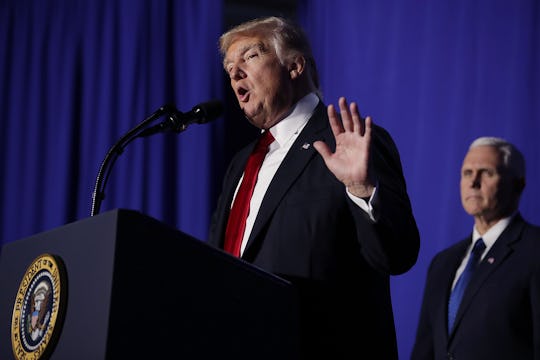 Chip Somodevilla/Getty Images News/Getty Images
Homeland Security Suspends Travel Ban, But Why?
He might not be happy about it, but President Trump is bending to the will of a federal court. A judge ordered an end to Trump's widely criticized immigration ban, and Trump's Cabinet are scrambling to comply. On Saturday, Homeland Security suspended Trump's travel ban, despite some angry tweeting from the president.
U.S. District Judge James Robart of Seattle (or, as President Trump likes to refer to him, the "so-called" judge) ruled on Friday that Trump's executive order to issue a travel ban on seven Muslim-majority countries was to end "on a nationwide basis." Two federal government agencies, the State Department and the Department of Homeland Security, announced that they would temporarily stop the implementation of Trump's travel ban (which suspended travel from Iran, Iraq, Libya, Somalia, Syria, Sudan, and Yemen) in accordance with the judge's decision. Acting Homeland Security press secretary Gillian Christensen said in a statement:
In accordance with the judge's ruling, DHS has suspended any and all actions implementing the affected sections of the Executive Order entitled. This includes actions to suspend passenger system rules that flag travelers for operational action subject to the Executive Order.
President Trump did not take the news of Judge Robart's decision as well, as evidenced by his petulant Twitter rants.
Romper reached out to the Trump administration and is awaiting a reply.
Homeland Security press secretary Christensen went on to say that all personnel from the federal agency would "resume inspection of travelers in accordance with standard policy and procedure." The White House is reportedly seeking an emergency motion to overrule the halt to the travel ban put in place by Judge Robart. The Department of Justice released a statement regarding its intention to file emergency legal action that read in part:
The Order is intended to protect the homeland and the American people, and the President has no higher duty and responsibility than to do so.
Judge Robart's decision came after the case was brought to him by the attorneys general of Washington state and Minnesota. He felt that the two states:
have met their burden of demonstrating that they face immediate and irreparable injury as a result of the signing and implementation of the Executive Order.
Washington state Attorney General Bob Ferguson released a statement regarding the restraining order, which he believed was, in essence, government-mandated discrimination.
The law is a powerful thing — it has the ability to hold everybody accountable to it, and that includes the president of the United States.
On Friday night, CBP instructed airlines that visas which had been previously cancelled due to the travel ban from the seven affected countries could be reinstated. Airlines are "back to business as usual" for now, with refugees who hold US visas able to be admitted again. Almost like the ban never happened... except it did.