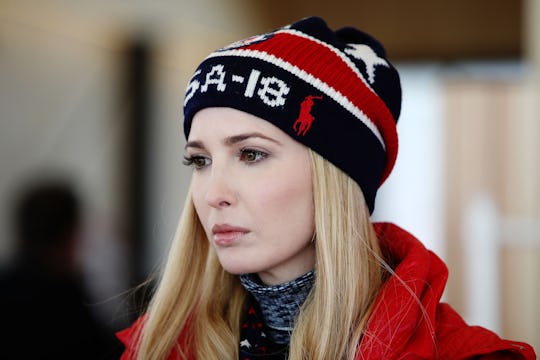 Marianna Massey/Getty Images Sport/Getty Images
This Is Why Ivanka Trump Shut Down Her Fashion Empire
Ivanka Trump spent years building and developing an eponymous clothing and shoe brand. This was her thing, seemingly separate from her real estate magnate father and brothers. She was successful and well-respected in her industry. But that was before the presidential campaign, her father's presidency, and her rather dubious role within that presidency. For anyone out there wondering why Ivanka Trump shut down her clothing business, it seems she's chosen to dedicate herself to her father's presidency and her work therein instead of carving her own path.
Romper has reached out to the White House for comment, but they did not respond in time for publication.
According to a report by The New York Post, Ivanka Trump recently let her employees know that she would be closing down her clothing and shoe business "as soon as possible" and they would all be laid off. The White House adviser and mother of three told Page Six in a statement that she was closing the business to focus on her work in Washington; "When we first started this brand, no one could have predicted the success that we would achieve. After 17 months in Washington, I do not know when or if I will ever return to the business, but I do know that my focus for the foreseeable future will be the work I am doing here in Washington, so making this decision now is the only fair outcome for my team and partners."
There could potentially be another reason Ivanka Trump made the decision to shut the doors on her company; sales have reportedly been plummeting. According to a report by The Wall Street Journal, sales for Ivanka Trump's line of clothing, shoes, and accessories skyrocketed during the 2016 presidential election, when she was campaigning for President Donald Trump and looking, by contrast to the man himself, reasonable and well spoken.
That all ended when he moved into the White House, and Ivanka Trump began to make a habit of wearing items from her clothing line during interviews in her capacity as a White House adviser. Then there was senior White House adviser Kellyanne Conway, who promoted Ivanka's brand (something that is definitely not okay for a White House official) during an interview on Fox & Friends in February 2017 by saying, according to The Washington Post; "Go buy Ivanka's stuff is what I would tell you. I'm going to give a free commercial here. Go buy it today, everybody."
Which they did, apparently. Sales went up over 200 percent after Conway's interview. But this didn't last long.
In 2017, however, online sales for Ivanka Trump clothing was down a whopping 45 percent, as per The Wall Street Journal. The news outlet also reported that several businesses, including The Hudson's Bay Company in Canada and Nordstrom here in the United States, dropped Ivanka Trump's namesake moderately priced fashion line in 2017. Now the famous first daughter has decided to jump ship and close the doors on her company, ostensibly in favor of working for her father at the White House.
Ivanka Trump's role in the White House remains somewhat dubious; she has traveled alongside her father as part of an envoy to different international events, and yet her role is defined simply as an "adviser," which could mean any number of things. In her official statement about closing down her business, she notes that she plans to focus on her "role" in the White House. Which, as far as I can tell, amounts to working on paid family leave reform and beyond that, showing up for a whole bunch of photo ops.
I hope her work for her father was worth losing her company over, because that appears to be what happened.