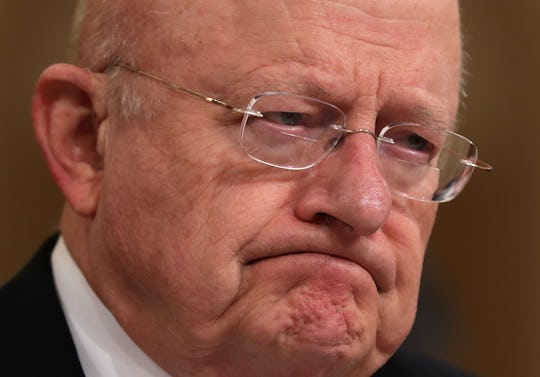 Alex Wong/Getty Images News/Getty Images
Why Did James Clapper Resign? The Director Of National Intelligence's Time Was Up
As much of the country peers toward the impending Jan. 20 inauguration of Donald Trump as the next president with trepidation, President's Obama's top intelligence advisor is anticipating that day for another reason: It will be his last on the job. Actually, Director of National Security James Clapper, who formally resigned this week, has been anxiously counting down the days until his planned retirement from the post he's held since 2010 for months, according to CNN, and he won't be hanging around in that capacity for even a second after Donald Trump takes the oath of office. Some members of the Senate are imploring the president-elect to prioritize appointing his replacement ASAP, but Clapper is, apparently, just pumped to get out of there.
"I submitted my letter of resignation last night, which felt pretty good," Clapper told the House Intelligence Committee in a rare open meeting Thursday, Politico reported. "I got 64 days left and I think I'd have a hard time with my wife anything past that."
Clearly, the man who has been responsible for overseeing 16 intelligence agencies including the FBI, the CIA, and the DEA, is more than ready to take his exit, but he also doesn't have a choice. Obama appointed Clapper — who previously served in the U.S. Armed Forces for 32 years in intelligence-related positions, in other governmental and corporate roles — to his position initially, and all such appointees must resign at the new administration prepares to take over.
Shortly after the Director of National Intelligence revealed to the committee his plans to vacate his office in just over two months, he was back to answering the tough questions that the 75-year-old likely won't miss when he integrates himself into civilian life. Rep. Joaquin Castro, a Texas Democrat, wanted to know whether Clapper believe that FBI director James Comey had "breached any protocol" when he informed Congress — and the American people — just days before the presidential election that the organization had discovered more emails related to Democratic candidate Hillary Clinton's ongoing controversy over her use of a private email server as secretary of state.
"I have no reason to question Director Comey," Clapper answered, according to NBC News. "I think extremely highly of him so whatever actions he took he did so what he felt was best and I have no basis for questioning him."
Although the decision of Comey, Clapper's subordinate, to release that information so close to Election Day was divisive and even regarded as partisan by some, it's generated far from the most withering of criticism Clapper has endured throughout his tenure. That came before, when former National Security Agency contractor Edward Snowden cited an exchange between the director and Oregon Sen. Jon Wyden, a Democrat, in March 2013 as the final impetus for leaking a trove of documents that appeared to prove that the U.S. government was engaged in collecting information from millions of Americans, as Wired reported.
"Not wittingly," Clapper responded when Wyden asked him whether this was true shortly before Snowden made the documents public through the online publishing platform WikiLeaks. "There are cases where they could inadvertently, perhaps, collect, but not wittingly." (Clapper later that he had answered the question in the "least most untruthful manner" possible without revealing too much, and defending the less-than-total admission by maintaining that the government doesn't sift through Americans' emails "voyeuristically," Politico reported.)
Clapper's exit from his position right at noon on Trump's Inauguration Day means that he won't have to interact with rival Michael Flynn, the retired U.S. Army lieutenant general whom he played a central role in firing from the Defense Intelligence Agency in 2014. Flynn, according to The Guardian, has backed Trump and will likely take over as his national security advisor next year.
For his part, Clapper is done dealing with the drama. Let's let him get back to his countdown, now.